Kids Electric Four Wheeler – Syxmoto 500 watt kids quad
If you're looking for a excellent ATV for beginner rider that won't break the bank then check out this electric kids quad from Syxmoto!
Who is this kids electric four wheeler designed for?
This kids quad is designed for kids ages 3 to 12 years old with a maximum rider weight of 120 pounds.
How big is this kids electric four wheeler?
The Syxmoto electric quad weighs 103 pounds. Here are the other dimensions of this kids ATV:
Length: 41.3 inches
Width: 26.4 inches
Height: 28.3 inches
Seat Height: 19.6 inches
What is the top speed of this kids electric ATV?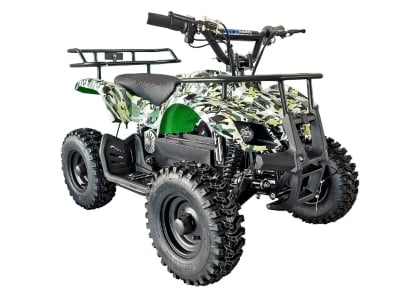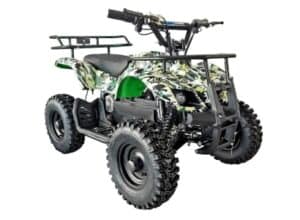 The Syxmoto Spy Deluxe Quad has a top speed of 12.4 mph which can take you on rides up to 12 miles on a full charge. This four wheeler also comes equipped with 3 speed settings for parental controls to help your younger riders start at a safe speed.  Speed settings are Low at 6.2 mph, Medium at 9.3 mph and High at 12.4 mph.  These speed settings give parents the option to start kids with a slower overall top speed and progress to a faster overall top speed as they get more comfortable.
How long does it take to charge the Syxmoto Kids Quad?
The charge time for this kids electric quad is 6-8 hours.
Where can you buy the Syxmoto Spy Deluxe Quad for kids?
Here's where you can find the current price of this quad:

Syxmoto Kids Electric Quad Specs & Features
500 watt motor

Bigger 36V 12Ah Lead Acid Battery. 500W brush motor
Front/Read Disc Brakes for better control
Front and rear spring dampener suspension system for smoother rides
Parental 3 speed control with Reverse: Low 6.2 mph, Medium 9.3 mph, High 12.4 mph
Reverse drive as well
Scientific suspension design to make comfortable & safer riding
Fashion front LED Light
High quality durable rubber tires
1.5mm thick steel frame tube.
High-quality PU & High-density foam Seat
Rear Axle: External grinding process, smooth & stable
ATV outfitted charger bag
Check out our Syxmoto kids electric quad video:
So what are you waiting for? Get your kids electric ATV TODAY!
Be sure that you check out some of the other awesome electric ride on toys brought to you by Wild Child Sports!
And remember to always educate your child on motorcycle safety and have them always wear the appropriate safety gear!