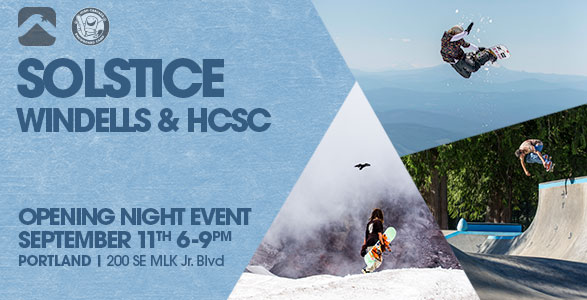 WINDELLS & HCSC PRESENT SOLSTICE
By Chris Cahill, Portland, OR: Traveling to Mt. Hood during the summer months can be a surreal experience. If you live in the southern hemisphere there's no reason to make the trip since it's your winter, but if you are a snow lover of the northern hemisphere, Timberline is mecca. As you escape your hometown and travel to the glacier you enter a world separate from reality. For a short time, Government Camp and the surrounding area transforms into a home away from home for many of us at evo. From the beginning of camp until the last day on hill, skiers and snowboarders get after it- dialing in new tricks and soaking in enough sun to have a goggle tan through fall. Experience the imagery captured on-hill and at camp in "Solstice," presented by Windells and HCSC.
Here are the details…
Who: Snowboarders/Skiers/Skaters/Art Enthusiasts
What: Windells & HCSC Present Solstice
When: September 11, 2015 | 6:00pm – 9:00pm
Where: evo | 200 SE MLK JR. Blvd
Cost: FREE
Facebook Evite: Here
Getting stoked for winter to hit? Check out the 2016 product arriving daily…
The post PORTLAND EVENT: Windells & HCSC Present Solstice appeared first on evo Culture, Community, Cause.
(Visited 72 times, 1 visits today)