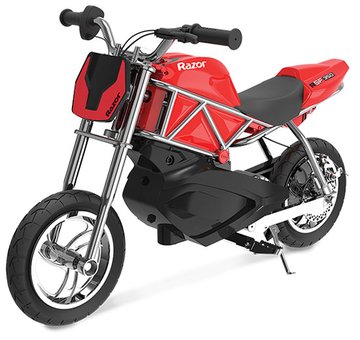 Best Kids Electric Powered Pocket Bike
Today, we are going to take a look at the scaled down version of the Razor RSF650, the Razor RSF350 kids pocket bike. This Razor RSF350 is going to provide your child with a great pocket bike that caters to slightly smaller riders with a slower overall top speed when compared to the RSF650. Let's take a closer look at this kids electric powered pocket bike!
Who is this Kids Electric Powered Pocket Bike designed for?
The Razor RSF350 electric street bike is designed for kids ages 13 and up with maximum rider weight of 140 pounds. Adult supervision is always required when operating this motorcycle.
What is the top speed of the Razor RSF350 Pocket Bike?
The top speed of the Razor RSF350 is 14 mph with 30 minutes of continuous use on a full charge.
Where can you buy the Razor RSF350?
Here is where you can find the current price of this Razor electric powered mini bike:
What do we like most about the Razor RSF350?
STREET BIKE GEOMETRY – The RSF350 has a really clean, sleek street bike look.
What would we change about the Razor RSF350?
CHARGE TIME – As is the case with most all Razor mini bikes, the charge time can be up to 12 hours. Not a deal breaker, but just something to be aware of before you make your purchase.
Razor RSF350 Pocket Bike Features
350-watt, high-torque, chain-driven motor
Twist-grip throttle
Hand-operated rear disc brakes
Rechargeable 24V (two 12V) sealed lead acid battery
Trellis-frame chassis design and street-bike styling
Adjustable-angle, riser-style handlebars
Custom 10" 3-spoke mag wheels and
Pneumatic tires
Folding foot pegs
Retractable kickstand
Hidden storage compartment




So what are you waiting for? Get your Razor pocket bike TODAY!
If you liked the Razor RSF350, be sure to check out some of the other great actions sports toys brought to you by Wild Child Sports!