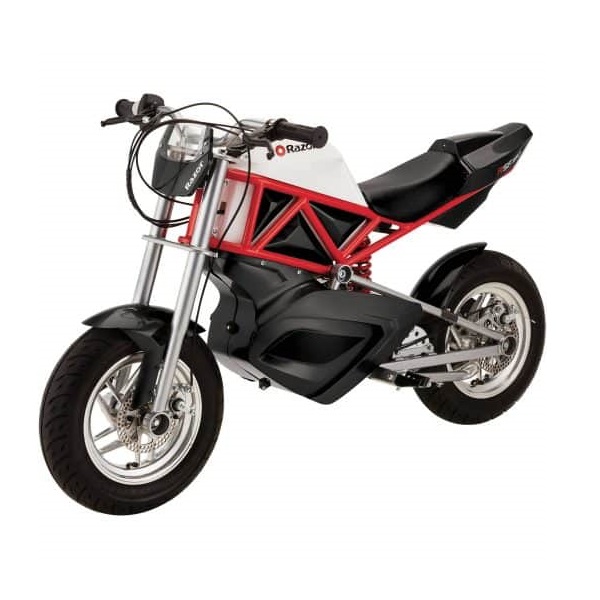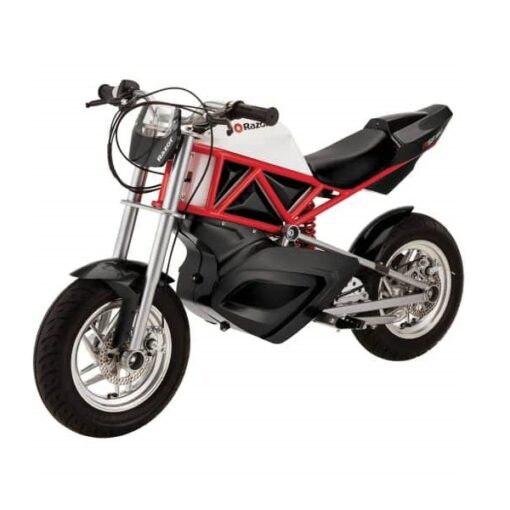 Razor RSF650 Electric Street Bike
The Razor RSF650 Electric Street Bike is an awesome, high performance street bike! It features a powerful 650 watt, chain driven motor with an overall street bike geometry. This electric street bike is very easy to assemble and all tools are included. If you're not sure which of the Razor electric mini bikes is of best fit for you or your child, be sure to check out our article on choosing the right model. Get out on the pavement with the Razor RSF650 pocket bike today!
Let's kick off this Razor RSF650 Electric Street Bike Review by answering a few of the most frequently asked questions.
Who is the RSF650 designed for?
This Razor electric street bike is designed for riders ages 16 and up with maximum rider weight of 220 pounds.
How fast does a Razor RSF650 go?
The Razor RSF650 top speed is 17 mph with up to 50 minutes of continuous use with a full charge.
Where can you buy the Razor RSF650?
Here is where you can find the current price of this Razor electric powered mini bike:
What do we like most about the Razor RSF650?
STREET BIKE GEOMETRY – The RSF650 has a really clean, sleek look. If you want to stand out in a crowd, this Razor mini bike delivers!
What would we change about the Razor RSF650?
CHARGE TIME – As is the case with most all Razor mini bikes, the charge time can be up to 12 hours. Not a deal breaker, but just something to be aware of before you make your purchase.
Razor 
RSF650 Electric Street Bike Specs & Features
650 watt chain-driven electric motor
Twist grip throttle control
36 volt sealed lead acid rechargeable battery system
Authentic street bike geometry
Custom 12″ 10 spoke mag wheels and street tires
Folding metal foot pegs
Retractable kickstand
Double crown fork
Hand operated dual disc brakes
Shatter-resistant plastic fairings
Hidden storage compartment

Check out the Razor RSF650 in ACTION!


Thanks for stopping by and checking out our Razor RSF650 Electric Street Bike Review. Be sure to check out some of these other great action sports toys brought to you by Wild Child Sports!