RSF650 Street Bike by Razor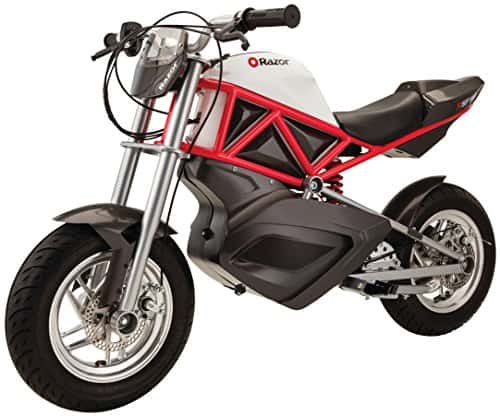 Razor RSF650 Electric Street Bike
The Razor RSF650 Electric Street Bike is an awesome, high performance street bike! It features a powerful 650 watt, chain driven motor with an overall street bike geometry. This electric street bike is very easy to assemble and all tools are included. If you're not sure which of the Razor electric motor bikes is of best fit for you or your child, be sure to check out our article on choosing the right model. Get out on the pavement with the Razor RSF650 Electric Street Bike today!
Check out the specs of the electric powered Razor RSF650 Electric Street Bike.
Who is the RSF650 designed for?
This Razor electric street bike is designed for ages 16 and up with maximum rider weight of 220 pounds.
How fast does a Razor RSF650 go?
The Razor RSF650 top speed is 17 mph with up to 50 minutes of continuous use with a full charge. Keep in mind that there are some Razor RSF650 mods that can be made to increase the overall top speed.
What does the Razor RSF650 cost?
The RSF650 electric street bike is going to run you right around 600 bucks. If this option doesn't fit your budget, before sure to check out the Razor Pocket Rocket!
Specifications of the
Razor 
RSF650 Electric Street Bike
650 watt chain-driven electric motor
Twist grip throttle control
36 volt sealed lead acid rechargeable battery system
Authentic street bike geometry
Custom 12″ 10 spoke mag wheels and street tires
Folding metal foot pegs
Retractable kickstand
Double crown fork
Hand operated dual disc brakes
Shatter-resistant plastic fairings
Hidden storage compartment

Reviews of the 
Razor RSF650 Electric Street Bike
---
"What an awesome bike. My boys love riding it. I have even jumped on it a time or two!"
---
"This is an awesome electric street bike, not just for kids but adults as well!"
---
"The perfect starter street bike. Very well built!"
---
"Excellent!! Christmas present for for my teenage kids and they absolutely love it!"
---
"Super legit electric street bike for the price that you pay. Another very well built product by Razor!"
---
Check out the Razor RSF650 Electric Street Bike in action!


Be sure to check out some of these other great action sports toys brought to you by Wild Child Sports!
(Visited 611 times, 1 visits today)