Monster Moto Mini Bike – Best Kids Mini Bike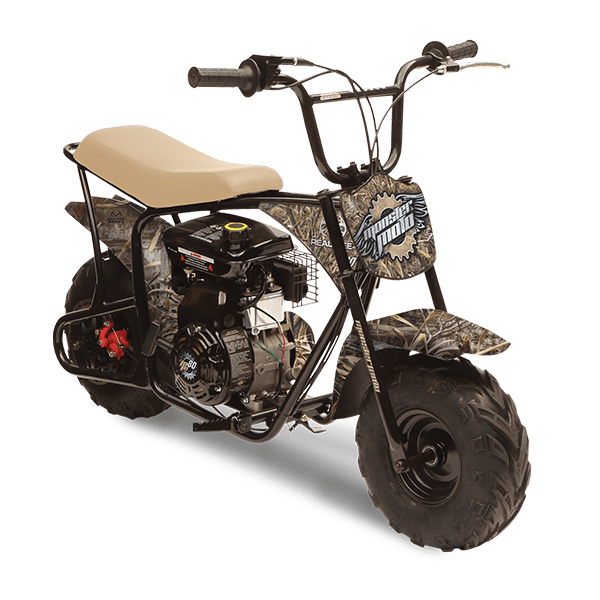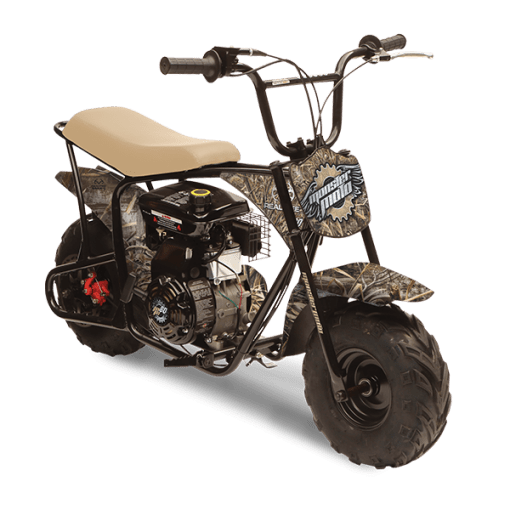 Monster Moto Mini Bike
Monster Moto is changing the game when it comes to mini bikes. They've taken what we already love about the classic mini bike and added some fresh new features. The end result is a fun, yet safe riding experience for all younger riders. The Monster Moto mini bike is available in 4 different models. These models are the Classic, Realtree, American Flag and the Muddy Girl. A 79.5cc OHV engine powers these all terrain mini bikes, while the centrifugal clutch ensures easy operation. Just twist the throttle and go. The sturdy frame is ready for young riders of all ages and abilities. The rear disc brake makes sure your new rider is able to stop quickly and safely. The Monster Moto Mini Bike comes pre-assembled. Just gas it up and go!
Best Kids Gas Powered Mini Bike by Monster Moto
Bottom line, if you are looking for a very well built and affordable mini bike, look no further than the Monster Moto Mini Bike. The Monster Moto Mini bike is without a doubt of the best kids gas powered mini bikes currently on the market! Let's take a closer look at these kids mini bikes.
Who is the Monster Moto Mini Bike designed for?
This Monster Moto bike has a maximum rider weight of 150 pounds.
What's the top speed of the Monster Moto Mini Bike?
This gas powered mini bike has a top speed of 23 mph with 45-60 minutes of continuous use on a tank of gas.
How much does the Monster Moto Mini Bike cost?
These mini bikes are going to run you somewhere between 400 and 450 bucks. The difference in price has a lot to do with the graphics/color scheme that you choose.
Monster Moto Mini Bike Specs:
80cc 2.5 HP engine
Pull Start
Automatic transmission
Hand operated rear disc brakes
Adjustable Handlebars
Super Grip Tires
No-Dent Polypropylene Fenders
Large Comfortable Seat
Check out all of the Monster Moto Mini Bike models below!
Monster Moto Classic Mini Bike
If the clean, classic look if what you are looking for, then look no further than this mini bike.
Monster Moto Realtree Mini Bike
If camouflage is what you are looking for while cruising in the great outdoors, the Realtree mini bike is for you!
Monster Moto American Flag Mini Bike
The American Flag mini bike is the ultimate all American mini bike!
Monster Moto Muddy Girl Mini Bike
Who says that boys should be having all of the fun?
Check out the Monster Moto Mini Bike in action!


Thanks for stopping by and checking out these Monster Moto gas powered kids mini bikes! Be sure to check out some of the other great Monster Moto products and kids dirt bikes available through Wild Child Sports!