Monster Moto Classic 212CC
Fast Gas Powered Mini Bike by Monster Moto (now Mega Moto)
UPDATE 2020: For those of you that haven't heard, Mega Moto has gone out of business. Feel free to check out our reviews of these mini dirt bikes, just keep in mind that all models a getting harder to find and once they're gone, they're gone. Be sure to check out some of the other gas powered mini bikes that are still available:
If you haven't already noticed, the Wild Child Crew is especially stoked on all of the great products that Monster Moto (now Mega Moto) has to offer. Today we want to take a closer look at the Monster Moto Classic 212CC Mini Bike. This gas powered mini bike is the biggest and baddest Monster Moto mini bike of them all!
Who is the Monster Moto Classic 212CC Mini Bike designed for?
This fast gas powered mini bike is designed for riders ages 16 and up with a maximum rider weight of 200 pounds.
What's the top speed of the Monster Moto Classic 212CC Mini Bike?
The top speed of this Monster Moto mini bike is 33 mph! This Monster Moto mini bike is one of the fastest mini dirt bikes currently on the market.
How much does the Monster Moto Classic 212CC Mini Bike cost?
This particular gas powered mini bike retails for around $900. However, you should be able to pick up the Mega Moto 212cc for a little less.
Monster Moto 212cc Reviews
We had a chance to read through a number of different reviews of the Monster Moto 212 mini bike. The majority of folks are really happy with the overall performance of this gas powered mini bike. For those that did have issues with the Monster Moto 212, they did admit that Monster Moto customer services was AWESOME in helping to right the wrong.
Monster Moto Classic 212CC Mini Bike Top Specs & Features
212CC 7.5 hp four stroke overhead valve engine
Continuously variable transmission
Easy pull start
Front and rear hydraulic disc brakes
Telescopic fork front suspension
Off-road tubeless pneumatic tires
90-DAY LIMITED WARRANTY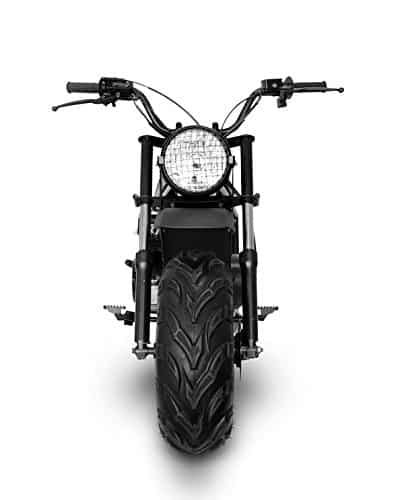 Safety Features of the Mega Moto mini bike
Mega Moto keeps you and you kids in mind as they have added a few safety features that are not always included with other mini bikes.  First they have included a chain guard.  It doesn't seem like much but keeping things from getting caught in the chain could help avoid wrecks and injuries.  They have also included a heat shield for the exhaust.  Trust us, these things heat up and the last thing you want to do is burn yourself while out having fun with your kids on the mini bike.  Lastly, this mini bike comes equipped with an engine stop switch.  You never know when you need it and having that switch available for a quick and easy shutdown could help prevent a disaster.  The Mega Moto 212CC was designed for hours of outdoor fun and with that design they have taken precautions to make sure you have the funnest and safest time when you head out for your outdoor adventures.  One last comment from Wild Child Sports on safety, always wear a helmet!
What is the Size and Weight of the Monster Moto 212 Mini Bike?
It's a mini bike right?  It should be easy to haul this thing around right?  Remember, this mini bike was built for the bigger kids in mind like ages 16 an up, so it's like that powerwheels atv you had for you kid at age 2.  The mega moto 212CC mini bike weighs a total of 164 pounds, so if you plan on hauling it around be prepared.  You may even want a loading ramp to get it up into the back of your truck.
Size is another consideration.  This is not something small like an electric skateboard or an electric scooter that you can just throw in your trunk or the back seat of you car and off you go.  You'll need something a little bigger to haul this mini bike around.  When it's fully assembled it stands a full 36 inches high, stretching 64 inches in length and is 32.5 inches wide.  It sounds pretty wide, but remember you have to account for the handlebars, which is where it is the widest.
Check out this fast gas powered mini bike in action!
Are there other models of the Mega Moto 212CC Mini Bike?
The quick answer is yes.  There is another model of the mini bike.  It looks almost like the same bike other than the missing headlight.  There are some small subtle differences though. It is a little smaller weighing in at only 140 pounds, which doesn't sound like much difference, but if you have to lift it to the back of your pickup it may make a big difference.  The dimensions are almost the same too, 35.6 inches high, 63 inches wide and 31.3 inches wide.  Here's a side by side picture for you to compare: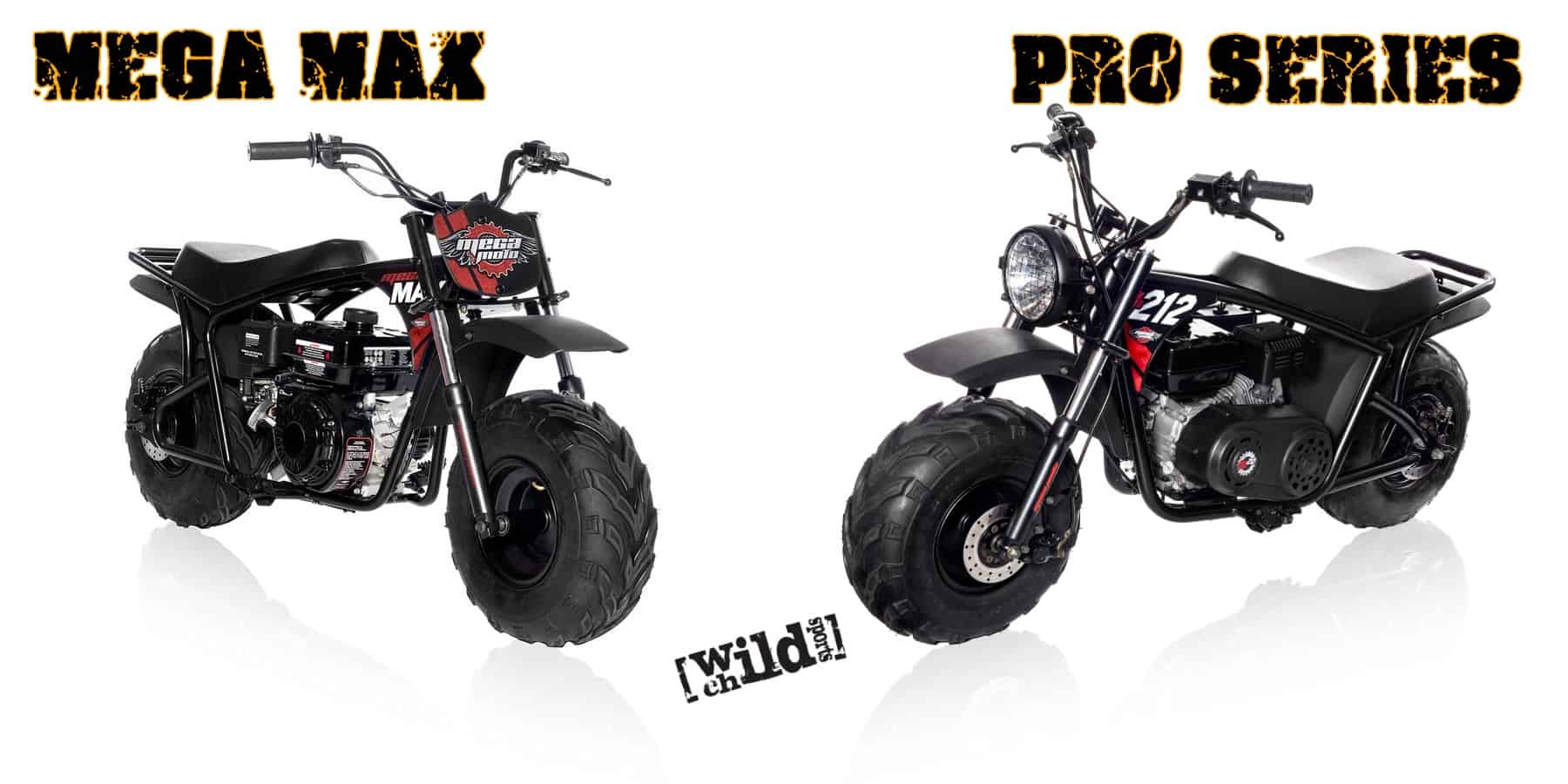 Are they exactly the same?  Not quite.  There are a few other differences between the Mega Max series and the Pro Series mini bikes that you can't see in the pictures.  First is the top speed.  The max series, the one without the headlight has a top speed of 29 miles per hour.  We thought this was interesting given that the motor and many of the other specs are the same as the Pro series mini bike.  Finally there is one last thing to consider.  If having a lighter bike is good and knowing that you are giving up a little bit in the speed category is ok, this may be just the feature that helps put your mind at ease.  It's the cost.  The Mega Max version with no headlight tends to be a little more on the economical side.  We've found that it can run $100 or more cheaper depending on where and when you buy it.  You can check out the current pricing below:

Thanks for stopping by and checking out the Monster Moto Classic 212CC Review! Be sure to check out some of the other great Monster Moto products and kids dirt bikes available through Wild Child Sports!