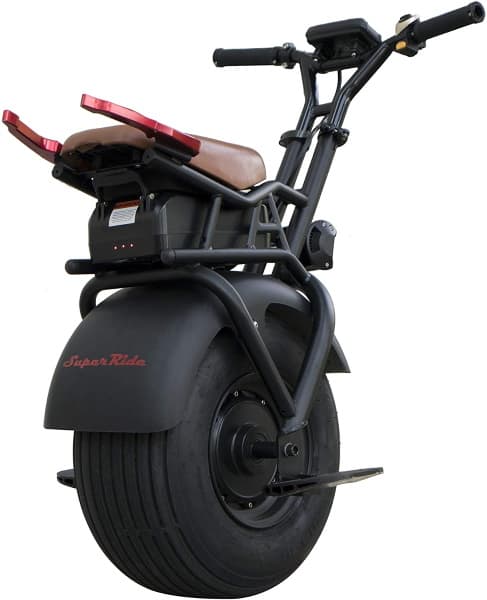 One wheel electric scooter – self balancing unicycle by Super Ride
The Super Ride one wheel electric scooter is pretty unique.  We love finding cool rides here at Wild Child Sports, like other stand up self balancing unicycles, fat tire scooters and self balancing hoverboards.  Keeping in line with those great rides we are now adding this one, a combination of self balancing, fat tire and getting it done all on one wheel.  This is a fun ride!
Who can ride this one wheel electric scooter?
The SuperRide S1000 G2 self balancing unicycle is designed for riders with a maximum rider weight of 280 pounds.  With this capacity it is built strong for almost any riders.  It works similar to a Segway or other self balancing 2 wheeled rides, you simply lean forward to accelerate and lean back to brake.  Turning is accomplished by using your body weight to lean left or right.
How fast is the S1000 electric unicycle?
The S1000 G2 has a top speed of up to 20mph. This gives you enough speed to get where you want to go pretty quickly and tops of at a speed safe enough for some of the less experienced riders to help you keep in control.  The powerful 1000 watt motor will get you cruising.
How far can this one wheel scooter go?
The 1000 watt motor is powered by a removable 60-volt, 5.8Ah battery!  This thing can take you about 15 miles on a single charge.  One thing we like about the set up is that the charging system is pretty quick.  You can get from 20% to 100% battery in about an hour.  In contrast, many electric scooter and bikes take over 3 hours to charge. In addition to the great battery and quick charge time, the S1000 also comes equipped with an LED display that gives you constant information regarding the battery and speed.
Where can you buy the X-Pro 110cc kids quad?
Here is where you can find the current price of this four wheeler:
SuperRide S1000 G2 Specs & Features
1000w electric motor
self-balancing
Quick Charging in 1 hour
LED Display
Front LED headlight
Electronic horn
Removable 60-volt, 5.8Ah battery
Light weight at 45 lb
Check out the SuperRide One Wheel Electric Scooter in Action:


Thanks for stopping by and checking out our S1000 electric unicycle review! Be sure to check out some of these other great rides brought to you by Wild Child Sports!
And remember to always educate your child on motorcycle safety and have them always wear the appropriate safety gear!