Syx Moto Holeshot 50cc dirt bikes are great value mini bikes designed specifically for off road riding in all conditions.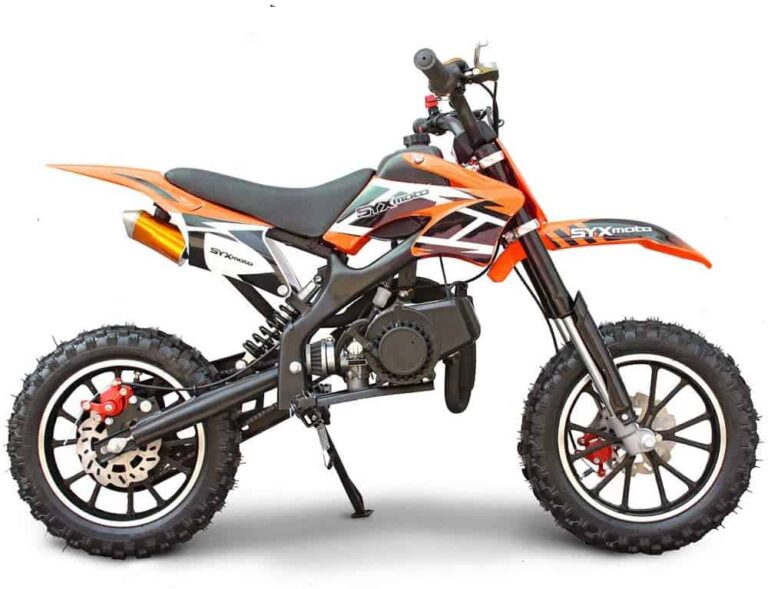 Reveiw
Syx Moto is a child friendly dirt bike with the best quality, value & service in the market. The Syx Moto HoleShot 50cc mini dirt bike is designed to be easy to handle.  Therefore, it's fun to ride and it's reasonably pricedtoo. The latest version of Syx Moto HoleShot 50cc mini dirt bike designed with a powerful 2 stroke engine.  It delivers an unmatched performance. The mini dirt bike is capable of running reaching over 25 miles per hour(Mph).  As a result, it's also perfect for getting started in racing.
Durable and Lightweight
With its durable aluminum frame and lightweight plastic body, it's an easy handling machine designed for outdoor use. Specially designed for kids but also suitable for grown-ups as well, this mini dirt bike can be used for various outdoor activities like trail rides, dirt tracks or even camping. You can choose from a variety of different colors.  We're sure you will love the overall design of this mini dirt bike because it adds excitement and fun into your daily activities!
Who is the Syx Moto Holeshot designed for?
This bike is designed to support riders of all sizes from kids as a beginner kids dirt bike to teens and can even hold adults.  According to SYX Moto the minimum age for a rider is 6 years old.  It has a total weight capacity of 176 pounds, so it can take a pretty big rider as well.  Reading through some of the reviews we were able to find claims of riders that were up to 6 feet tall weighing 185 pounds so it sounds like a tough little dirt bike.
What is the Top Speed and Range of the Holeshot 50cc Dirt Bike?
The top speed of the syx moto holeshot 50cc dirt bike is 30 mph.  Of course there are a lot of things that will affect the overall speed and how far you'll be able to travel.  Some of the top considerations are the road condition you are riding on, the terrain, the slope (yeah up the hill will burn more gas), the rider weight and how the rider is riding the dirt bike.  As far as how far it goes will depend on all of these factors.  With a .45 gallon tank though I wouldn't go too far without testing it out first.
Are Color Options for the Holeshot 50cc?
Short answer is yes.  There are a variety of color options.  Some of them are available through the Syx Moto site directly and some through Amazon.
Here are some of the versions:
     Orange
     Pink
     Yellow
     Green
What do we like most about the Syx Moto Holeshot 50cc Dirt Bike?
This is a great little economical bike for kids that's made from lightweight yet durable plastic body.  In addition, the Dirt Bike Engine is very sturdy providing a great ride on grass, trails or pavement.
What would we change about the Holeshot?like most 2 stroke engines you have to mix the gas.
Although it's not a hard thing to do, it's one extra step before hitting the trail.  It would be nice to have a separate oil tank and an oil injection system.
Final Thoughts
Not all dirt bikes are the same and not all dirt bikes are the same quality. If you're serious about riding, it's smart to buy a good dirt bike. As a result, you'll find that syx moto holeshot 50cc dirt bike is a great place to start with your first ride. That's because Syx Moto makes it easy for you to own a good dirt bike – and that's what you get with syx moto holeshot 50cc dirt bike: quality components and attention to detail. The motor is made from high-quality materials, which means that you'll have your syx moto holeshot 50cc dirt bike working perfectly for years to come! The motorcycle has an automatic centrifugal transmission that allows you to shift gears without having to brake or accelerate. It also has front and rear disc brakes.
Inexpensive
I can tell you that the dirt bike industry is booming. Syx Moto holeshot 50cc pull start gas powered dirt bike is a fantastic beginner or mid-sized kid's dirt bike to get started on. You don't need to be a pro at riding in order to enjoy this machine. It is perfect for kids and beginners who want something fun and inexpensive.
Good for all ages
Syx Moto provides a great 50cc mini dirt bike, perfect for kids and grown ups alike.  It provides plenty of power and torque for riders of all ages and abilities. The Holeshot 50cc mini dirt bike is portable, easy to assemble and comes with a durable, flexible frame that will suit most riders from age 6 to adult. With its lightweight body made from high quality ABS plastic, this dirt bike will get you around without any trouble.
Although there are plenty of choices when it comes to buying a child's dirt bike, not many are suited for children under 4 years old. However, when it comes to buying a dirt bike for kids aged 4-8 years old, there are models available that can be considered  suitable for kids in this age group. If you are looking for dirt bikes for kids in the 4 to 8 age group you may want to check out some of the electric mini dirt bikes out there.  Razor makes a variety of electric dirt bikes for kids of all ages.
Compact Size
The Syx Moto Holeshot 50cc mini dirt bike is for anyone who wants to ride it, as long as they do not push too hard or go too fast.  With its compact size make it ideal for riding in crowded areas such as parks , schools etc., where one has limited space . It also features an adjustable handlebar which makes it easy for small hands.  Lastly, the mudguards on top of both wheels enable easy maneuvering in muddy areas.


Thanks for stopping by and checking out our SYX Moto Holeshot 50cc Dirt Bike Review! Be sure to check out some of these other great electric dirt bikes brought to you by Wild Child Sports!
And remember to always educate your child on motorcycle safety and have them always wear the appropriate safety gear!