We really like dirt bikes for kids here on Wild Child Sports, and lots of other cool rides too.  Viro Rides created a really cool electric kick scooter bike combo a few years back.  Now they've created an electric ride, the Viro Rides Cafe Racer, that looks a lot like an electric dirt bike, but has a street bike feel to it.  Maybe it's just because of the wheels.  Today we'll review the ins and outs of this cool kids ride.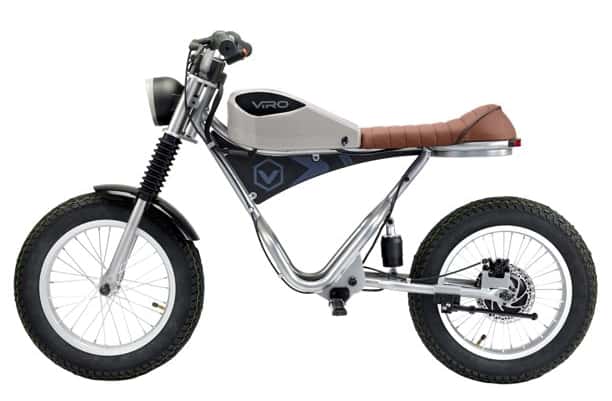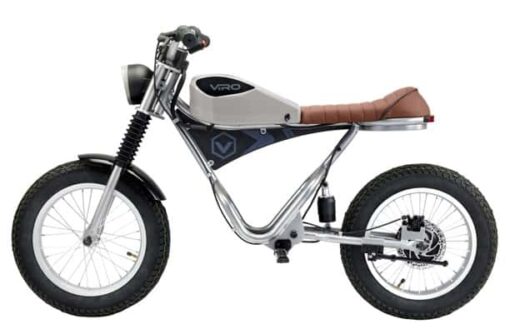 This is a fun little motorbike that you and your family will enjoy for a long time.  It's a quick and easy unboxing and setup.  The total time it takes is right around 30 minutes.  It has a simple yet sturdy design making it easy on the eyes as well as the maintenance.  It also has a front headlight and rear tail light for safety.
Who is the Viro Rides Cafe Racer designed for?
The Cafe Racer is designed for a variety of riders.  It is suggested for riders ages 13 and older with a maximum rider weight of 220 pounds.  For those of you who are familiar with Razor electric dirt bikes this compares closest with the MX500 which is designed for ages 14 and up.
What is the Top Speed and Range of the Cafe Racer?
The Viro Rides Cafe Racer has a top speed of 15 mph.  It's also good to note that although the top speed is 17 mph, it is also affected by the size of the rider.  It reaches it's top speeds powered by a 250w electric hub motor.   It also has a range of 7 miles with a full charge.  As far as ride time goes, it depends on speed and rider size.  Just a quick calculation though, it it goes about 15 miles per hour and can go 7 miles, that would be about 20 to 25 minutes of ride time.
The Cafe Racer also has a handy parental control.  As a parent you can set the speed limit on the bike to 10mph, 12mph or 15 mph with the twist of a coin on the underside of the battery pack housing.   This is what would be the gas tank on a gas dirt bike.
How tall is the Viro Rides Racer?
The Cafe Racer is a great size for the younger riders growing into the early teens.
Height – 24.8 inches high from the ground to the handlebars
Length – 44.29 inches long
Width – 15.7 inches wide.
How long does it take to charge the Cafe Racer?
Like most electric bikes it takes a while to charge.  This one takes between 4 to 5 hours per charge, so it's something to consider as you are contemplating a purchase.  This is a similar time it takes to charge other bikes like Razor Dirt Bikes.  Also, each time you use the the motorbike you want to recharge the battery immediately after.  This will help to maximize the length of the battery life.
What do we like most about the Viro Rides Cafe Racer Electric Moto Bike?
One of our favorite things about the Viro Rides Racer is the styling.  It's a nice looking bike that has the look and feel of a classic motorcycle.  The digital control panel on the tank is an added benefit that you don't always see on kids electric rides.  You can quickly see the remaining battery life or your speed as you ride.
What would we change about the Viro Rides Cafe Racer kids electric Motorcycle?
like most kids electric rides if there were one thing we would change it would be the total ride time.  Maybe even create a method for swapping out the battery.
Where do you buy the Viro Rides Cafe Racer kids electric Motorcycle?
Here is where you can find the Cafe Racer at Walmart.  Click below for the current price:
Thanks for stopping by to visit Wild Child Sports.  If you like this review you might also like these other electric ride reviews.