Electric Drift Trike by Razor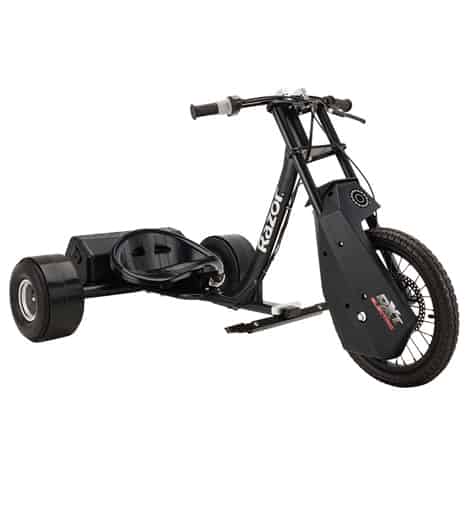 Introducing the Razor DXT Electric Drift Trike
If you're looking for a well built electric drift trike that doesn't cost a small fortune, be sure to check out the Razor DXT Electric Drift Trike. The Razor DXT takes everything that you love about trike drifting and then adds an electric motor that can take you up to 15 mph on flat ground!
If you're new to trike drifting and not sure what type of drift trike is best for you, be sure to take a look at our Drift Trike Buyers Guide.
Who is this drift trike designed for?
Ages 16 and older
Maximum rider weight of 198 lbs.
What is the top speed of this drift trike?
The Razor DXT electric drift trike top speed is 15 mph with up to 60 minutes of continuous use on a full charge.
How much does this electric drift trike cost?
Price: [wpramaprice asin="B01ET6JKJW"]
This particular drift trike is going to run you somewhere in the neighborhood of $420. This is a very good price point given the fact that many of the higher end electric drift trikes will run you over 500 bucks. Get your Razor Electric Drift Trike Today!
Let's take a closer look at the product specs for this electric drift trike by Razor.
Razor DXT Electric Drift Trike Specs
500 watt chain driven motor
2 piece welded steel frame
Moto-style flat alloy handlebars with pro grips
Twist grip throttle
Front Wheel: Pneumatic tire with 16" x 2.125" heavy-duty steel rim
10 inch rear wheels with 4 inch contact patches and high speed bearings
Adjustable bucket seat with 2 different positions
Folding, adjustable metal foot pegs
36 volt (three 12 volt) sealed lead acid rechargeable battery system with quick-change compartment
Charge time of 12 hours
Check out the Razor DXT Electric Drift Trike in Action!


So what are you waiting for? Get your Razor Electric Drift Trike Today!
Be sure to check out all of our Razor products buyers guides and some of the other great action sports toys brought to you by Wild Child Sports!
Electric Drift Trike by Razor