Kids Electric Go Kart by Actev Arrow
Kids Electric Go Kart by Actev Arrow
If you are looking for one of the best kids electric go karts, be sure and check out the Actev Arrow. Here at Wild Child sports we are completely blown away by the awesomeness of this kart! There are some pretty amazing features with this go kart. The kart shown above includes the Formula Racecar body kit that will run you an additional $200. The body kit is available in both red and silver. Here's a picture of the kart before adding the body kit:
Stay in control with the Actev App
One of the coolest features about this kids electric go kart is the Actev App. The Actev App downloads onto your phone and connects to the go kart with a WiFi connection and allows you to remotely stop the kart, control speed of the kart and create safe driving zones for your child. This truly is a SMART kids go kart. This feature will help to let your up and coming race car driver to start out slow before pushing their driving to the next.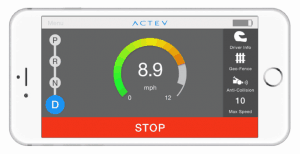 So what are you waiting for? Get your Actev Arrow go kart today! Check out all of the details of the Actev Arrow now!
Who is the Actev Electric Go Kart designed for?
This electric go kart is designed for kids ages 5-9.
How much does this kids electric go kart cost?
The Actev Arrow go kart is going to run you right around 1000 bucks. Or $1200 if you want to add the Formula Racecar body kit. And yes, it is going to be worth every dime!!
How fast does the Actev Arrow go?
This kids go kart has a top speed is 12 mph. As mentioned early, you have the ability to adjust the max speed with the Actev App based upon the experience level of your child.
Specs of the Actev Arrow Electric Go Kart
Two independent electric motors for accelerating and braking
Durable steel chassis
Duel grip steering wheel
Lithium Ion battery
SMART Go kart with Actev App
Proximity Sensors to help avoid crashes
Check out the Actev Arrow kids electric go kart in action!
If you liked this kids electric go kart, be sure to check out some of these other great kids go karts brought to you by Wild Child Sports!