Kids Off Road Go Kart – Coleman Powersports CK100-S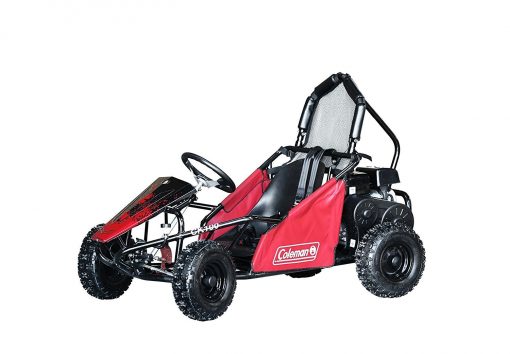 Coleman Powersports CK100-S
Today, we are going to take a look at one of our favorite kids offroad go kart by Coleman Powersports. This is a great entry level go kart that will get your child familiar with operating gas/brake pedals and will ensure that they have hours of off road fun!  Coleman Powersports makes some pretty good rides designed to provide the opportunity for your kids to have loads of fun while building into the design safety and reliability.
Who is this kids off road go kart designed for?
One of the things to consider when purchasing an off-road go kart is whether or not it's a good fit for your kid.  The Coleman Powersports CK100-S is recommended for riders 13 and older.  It is also recommended for a maximum rider weight of about 150 pounds.  That said, this depends on a number of other things as well.  One major factor to consider is whether or not your child already has experience driving go karts.  Some kids under 13 may be just fine while I've known a few that even past the age of 13 might not be qualified to drive a kart.
Another consideration is the size of your child.  Just because the age and weight recommendations are set at 13 and up to 150 pounds doesn't mean it will fit your child.  Although there are no height recommendations, this go kart can easily fit someone who is as tall as 6 feet.  Keep in mind it may not be quite as comfortable.  If you've got some of those tall genes in your family you might want to consider an off-road kart that is a little bigger.  Coleman also makes one of those too, you can check out the Coleman Powersports KT196 which may be a little better fit for bigger kids.
What is the top speed of this off road go kart?
The top speed of the Coleman CK100-S is 15 mph.  Top speeds often depend on a number of factors.  Depending on the terrain your are riding on will have an affect on how fast you can get the CK100-S going.  For example, if you are on a well maintained dirt road or smooth trail you are more likely to hit those top speeds than if you are driving up and down hills on rough trails.
How much does the Coleman Powersports Kids Off Road Go Kart cost?
Prices vary for the CK100-S Off Road Go Kart, but you can check with most major retailers for current pricing.  We've found a couple of listings that seemed to be reasonable priced at both Walmart and at Amazon.  There are a couple of links below.
Coleman Powersports CK100-S
Specs
Sleek single rider kart design.  Hey you have to look good when you are out on the trails right?  This off road kart is not only durable but sports a nice look too.
Racing seat with a four point safety harness.  Of course we are mentioning a safety feature as the second on the list.   After all, the fun ends quickly if you get hurt.
Heavy duty 16 and 13 gauge tubular construction sturdy enough for those long days and hours of fun for kids of all ages.
Weight of the off road go kart – 146 lbs.  Why mention this?  Well someone has to haul this thing around, right?   It's good to know what you are getting into.  You might want to consider some lightweight ATV ramps to help you get it up into your truck or trailer.
Dimensions of the go kart – 57 x 38 x 27 inches.  It's not too big, but again the size is something to consider when you are moving it around.
Rear hydraulic disc with brake pedal.
98cc 4 stroke OHV 3 Horsepower engine with gas pedal
Looking for more details?  You can download the CK100-S Owner's Manual here.
Coleman Powersports CK100-S
 video
Ride Safely
When thinking about safety, the first thing we would like to mention is that a majority of accidents can be prevented by thinking and riding safely.  This means that riders should understand their limitation and the limitations of the kart they are driving.  There are precautions you should always take too.  Some of these things seem like common sense but we'll go ahead and mention them.  Always wear a certified DOT motorcycle or ATV helmet!  Common sense right?  This one thing will protect the rider from some of the most potentially serious injuries.  The second thing we would always recommend is to wear eye protection.
What Safety Features does the CK100-S have?
At first glance you might notice the head bar rising up from behind the seat.  Although this is provided to add extra safety it is not intended to provide protection in a rollover accident.  The mesh netting does provide some support against your head bouncing around as you ride.
The Coleman CK-100-s does come with side panels designed with a similar function, so they provide limited protection.
One of the main safety features is the seat belt.  It has a 4 point safety harness type of seat belt to make sure you stay in the kart during your ride.  The bolstered seat which adds to the safety also helps provide ac comfortable ride as you cruise down the trails.


A few last words about this off road go kart.  It's a sturdy dependable go kart great for the beginner rider right around 13 years old and up to 150 pounds.  It's 98cc, 3 horsepower engine provides enough power to get you where you want to go at speeds of up to 15 miles per hour.
So what are you waiting for? Get your Coleman Powersports Kids Off Road Go Kart Today!
Thanks for stopping by and checking out our Coleman Powersports CK100-S Go Kart Review. Be sure to check out some of the other great kids go karts brought to you by Wild Child Sports!