Off Road Go Kart – Coleman Powersports KT196 Review 2020
Are you ready to take your outdoor fun to the next level? If so, then you've come to the right place. Today. we are going to take a look at one of our favorite off road go karts by Coleman Powersports. The Coleman Powersports KT196 is a two seater go kart that packs some serious punch.
Who is this off road go kart designed for?
The Coleman Powersports KT196 is for riders 13 and older and a maximum rider weight of ~400 pounds.
How big is the Coleman KT196?
This off road go kart weighs 330 pounds. Here are its other dimensions:
Length – 68.11 inches
Width – 43.7 inches
Height – 47.24 inches
Ground Clearance – 4 inches
What is the top speed of this off road go kart?
The top speed of the Coleman KT196 is 15 mph. One thing to keep in my mind is that top speed can be affected pretty significantly by the weight of the rider or riders.
Where can you buy the Coleman Powersports Off Road Go Kart?
Here is where you can find the current price of the KT196 go kart:
The KT196 is also available in camo but that color combo is getting pretty difficult to find: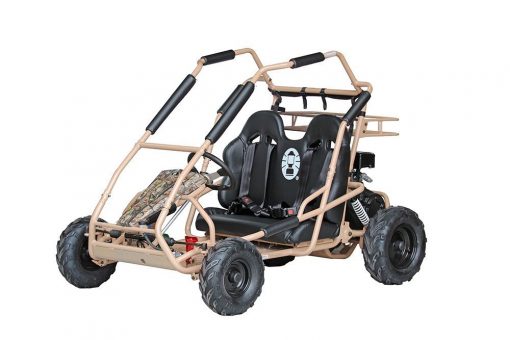 Coleman Powersports KT196 Specs & Features
196cc, 5 horsepower gas engine
Pull start
Kill switch
Manual choke
Roll cage
Over-sized off road tires
Adjustable driver seat with a four point safety harness

Sleek dual rider kart design

 

Hydraulic disc with brake pedal

Fuel capacity – .95 gallons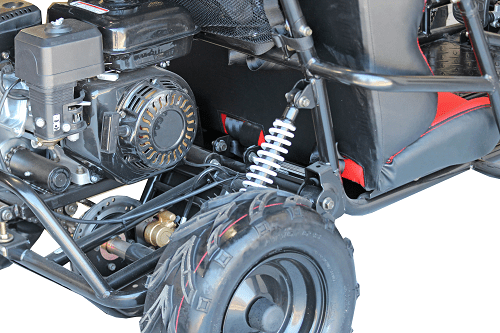 So what are you waiting for? Get your Coleman Powersports KT196 Today!
Be sure to check out some of the other great go karts and mini dirt bikes brought to you by Wild Child Sports!