Fuzion SpinnerShark Kneeboard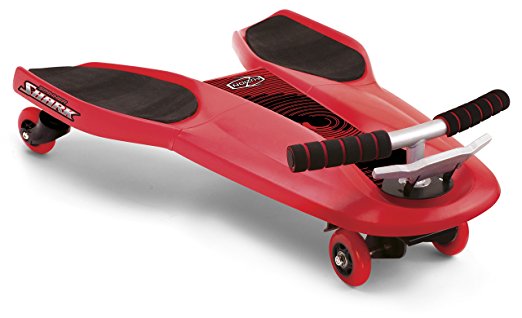 SpinnerShark Kneeboard by Fuzion
We're all about having fun here at Wild Child Sports. Today we are going to take a look at an oldie but a goodie, the Fuzion SpinnerShark Drifting Kneeboard.
The Fuzion SpinnerShark wheeled kneeboard combines elements of a sled and a skateboard and then mixes these elements with the versatility of caster wheels to create one exciting ride. This kneeboard is designed to perform ground shredding and tail whipping fun on a playground, neighborhood sidewalks or just about anywhere with a smooth surface. Smooth drifting and spinning with the Fuzion SpinnerShark is controlled by a responsive steering hand brake along with a dual wheel braking system.
So what are you waiting for? Get your Fuzion SpinnerShark today!
What does the SpinnerShark cost?
This drifting kneeboard is going to run you right around 70 bucks. These kneeboards are super popular so they can be hard to find. We've found that one of the best places to find the SpinnerShark to be on Amazon. Grab one today before they're sold out!
Fuzion SpinnerShark Specs
7-Ply Skateboard Quality Wood Deck
360 Degree Caster Trucks for drifting and spinning action
Heavy duty steel frame and cast urethane wheels
180 Degree Super Responsive Steering
Front Handbrake Lever and Dual Wheel-Braking
Check out the SpinnerShark in action!


If you liked the SpinnerShark, be sure to check out some of these other great action sports toys brought to you by Wild Child Sports!