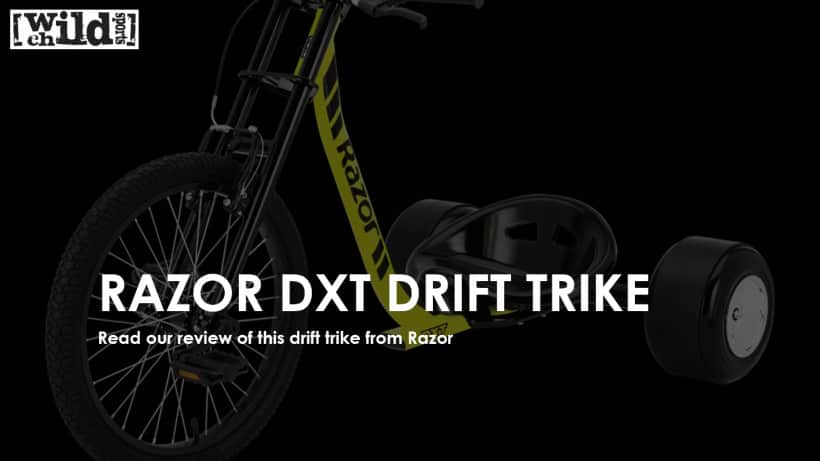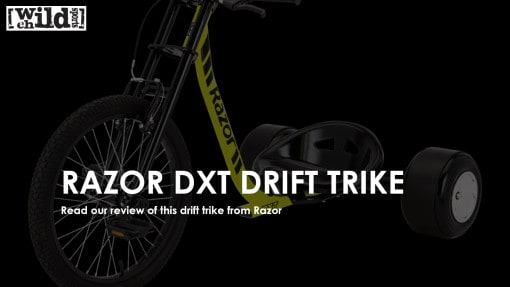 Razor DXT Drift Trike
If you're looking for an entry level drift trike and don't want to break the bank, then look no further than the Razor DXT Drift Trike. If you're new to trike drifting and not sure what type of drift trike is best for you, be sure to take a look at our Drift Trike Buyers Guide.
Let's take a closer look at the details of this drift trike!
Who is the Razor DXT Drift Trike designed for?
This drift trike is recommended for riders ages 14 and up with a maximum rider weight of up to 198 pounds.
What do we like most about this drift trike?
COST – At this price point, the DXT is one of the cheapest drift trikes currently on the market.
What would we change about this drift trike?
SEAT – The seat on the DXT is made of plastic. As is the case with any type of trike with a plastic seat, it can be pretty easy to crack or chip.
REAR WHEELS – The rear wheels on the DXT are made of plastic and are hollow. Again, not uncommon for a trike at this price point.
Razor DXT Drift Trike Product Specs
2 piece steel frame
20 inch front wheel with an internal free wheel
10 inch rear wheels with 4 inch contact patches and high speed bearings
Moto-style handlebars with pro-style grips
Adjustable bucket seat with 2 different positions
792 mm wide rear axle
Alloy crank and rear brake
BMX style platform pedals
Where do you buy the Razor DXT?
There are a lot of different retailers that stock the full lineup of Razor products. We try to keep a close eye on where to find the best price on this drift trike. Here is where you can find the current price:
Check out this Razor Drift Trike in ACTION!
Did you know that Razor makes an electric DXT drift trike?  It's pretty cool too.  You can take your drifting from cruising downhill to cruising around anywhere on flat surfaces.  
Make the action more suited to the hills than you are used to with the Razor DXT Electric. Its high torque 500-watt motor gives it a top speed greater than 15 miles per hour. Its three-speed drive offers you more options, while its new 10-inch slick rear wheels deliver a wide range of control for your knees and torso. Check out the
Razor Electric Drift Trike today!


Thanks for stopping by and checking out our Razor DXT Drift Trike Review! Be sure to check out all of our all Razor reviews and action sports toys brought to you by Wild Child Sports!