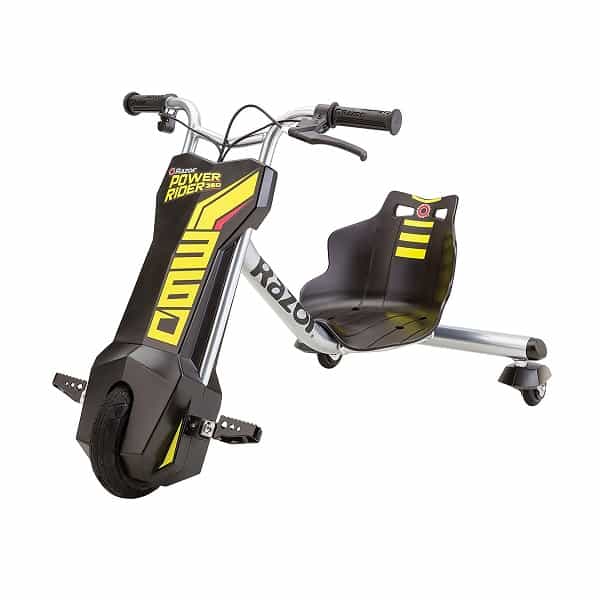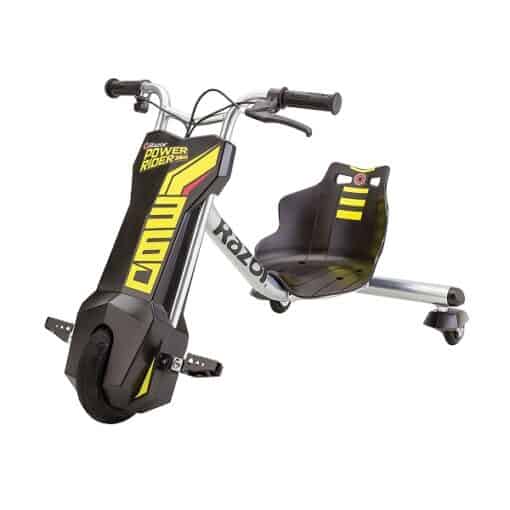 Razor Power Rider 360 Electric Tricycle
Trike drifting continues to gain in popularity and the Power Rider 360 is a great entry level drift trike that doesn't break the bank. With the push of a button, you're off drifting around corners and doing 360 degree spins. The power comes from a chain driven motor that's attached to the front wheel and the rear caster wheels making drifting and spinning almost effortless. You might also want to check out our reviews of the Razor Drift Rider and Razor DXT drift trikes. Let's take a closer look at this kids drift trike to see if its a good fit for you or your child.
Who is this electric drift trike designed for?
The Power Rider 360 is designed for riders ages 8 and older with a maximum rider weight of 120 pounds.
What is the top speed of this drift trike?
The Razor Power Rider 360 has a top speed of 9 mph with up to 30 minutes of continuous use on a full charge.
Where can you buy the Razor drift trike?
Here is where you can find the current price of the Power Rider 360:
Power Rider 360 Specs & Features
Welded steel frame
Moto-style front fork
Chain driven motor
Push button throttle
Hand operated braking system
Pneumatic front wheel
Rear caster wheels
Folding foot pegs
12 volt rechargeable battery system with charger
Check out this Razor Drift Trike in Action!


So what are you waiting for? Get your Razor Power Rider 360 Trike Today!
Be sure to check out all of our Razor products buyers guides and some of the other great action sports toys brought to you by Wild Child Sports!