Looking for the best Power Wheels Jeep for Girls?  You found them!  Power Wheels makes a bunch of cool rides for your kids and we've taken a few minutes to gather the top Power Wheels girls styled Jeep Wanglers for you.
Power Wheels Disney Frozen Jeep Wrangler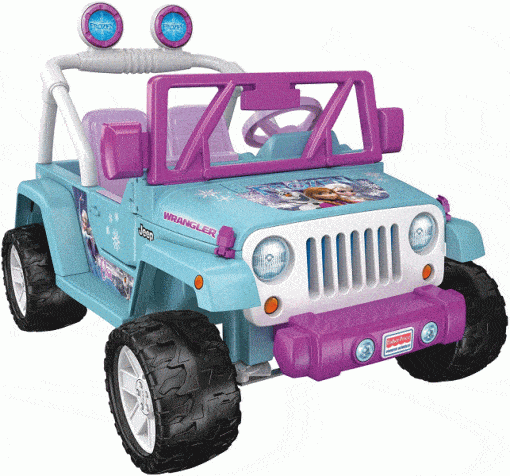 CHECK PRICE @ Amazon
The Power Wheels Disney Frozen Jeep comes with realistic Jeep Wrangler styling including Frozen color and graphics.  It has a pretend radio that comes loaded with songs from the Disney Frozen Movies.  It has working doors and a roomy storage area behind the seats.
This ride on Jeep is battery powered and built sturdy.  Because of this, it will support a total rider weight of up to 130 pounds.  it has a specially designed Power-lock brake system that automatically stops the Jeep as soon as your kid takes her foot of the pedal.
Power Wheels Disney Princess Jeep Wrangler
Your young drivers will love cruising into adventurous 'off-road' excursions with their favorite Disney Princess characters in their very own Jeep Wrangler!  What a great way to get you little one enthused about outdoors and extreme adventures.  The Disney Princess Jeep features adorable Disney Princess colors and graphics, driving sounds and character phrases, and like the Frozen Jeep, a roomy storage area for all their exploring supplies! Plus, the realistic Jeep Wrangler styling and doors that really open and close take the role play fun to a whole new gear.
Power Wheels Barbie Jeep Wrangler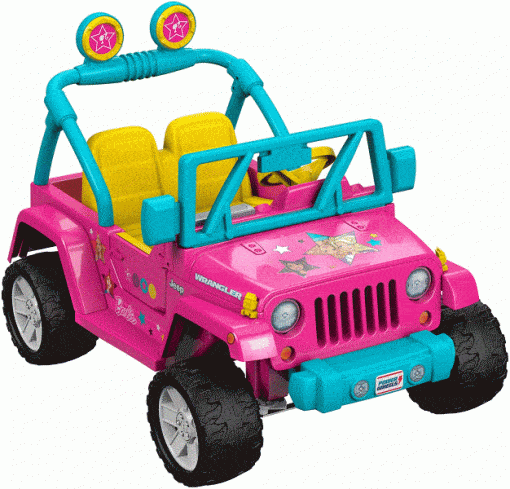 Get ready for some tunes and great driving adventures in this Barbie Jammin' Jeep Wrangler! This sweet
ride on toy has
the looks and feel of the real Jeep Wrangler decked out in real Barbie colors and graphics.  It's realistic details that include a radio that pre-loaded with six awesome tunes.  Like the other Jeeps in this post the doors open too.  It also has a roomy storage area and is built tough for your rockin' adventures.
Power Wheels Nickelodeon Shimmer & Shine Jeep Wrangler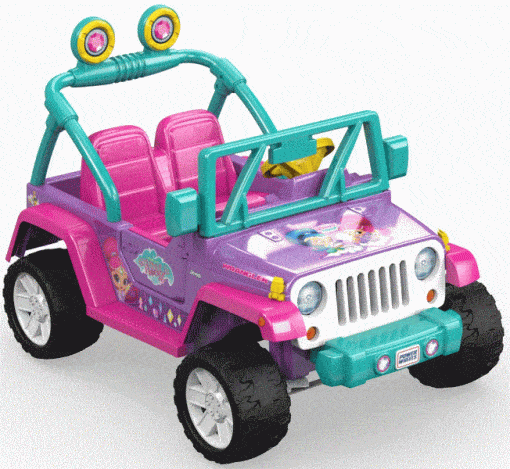 Take a look at the Shimmer and Shine Model of the Power Wheels girls Jeep.  Forget the magic carpet that you might expect with the Shimmer and Shine genies.  Bring to life a real adventure in this sweet Power Wheels Jeep.  Similar to the other Jeeps it has a pretend radio pre-loaded with phrases from Shimmer and Shine along with songs and sounds from the show.
The Power Wheels Shimmer and Shine Jeep Wrangler's realistic features make it easy for kids to role play.  They're in the driver's seat of a rugged ATV.  Whether they're cruising cross country, trekking steep mountainsides, tearing up muddy trails, or going wherever their imaginations take them, this vehicle is sure to get them there in magical Shimmer and Shine style.
Power Wheels Wonder Woman Jeep Wrangler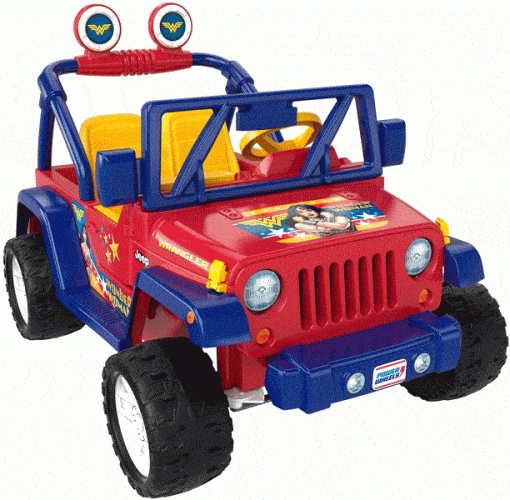 Now we're talking real superheros as your girls race into action with their own Wonder Woman Power Wheels Jeep.  This cool ride will bring the fun and excitement of super hero imaginations.  Kids are thrilled as they sit behind the wheel of their very own Jeep.  It comes with awesome Wonder Woman graphics.  Also, it comes with a pretend radio, pre-loaded with cool character phrases and engine sounds.  What better way to get your kids into the off-roading sport and outside than to go for a ride on this cool little Jeep
So What is a Power Wheels Girls Jeep going to cost?
Like most ride on toys, Power Wheels Jeeps for girls are not cheap.  That said they are not any different than getting a boys Power Wheels Jeep.  Basically this cool little kids Jeep is going to run you about $300 dollars or so.  Prices change often though so check around.  You may be able to find a good deal around the holidays.
Here's a link for come current prices on Amazon.
Here's a link to check prices on Walmart.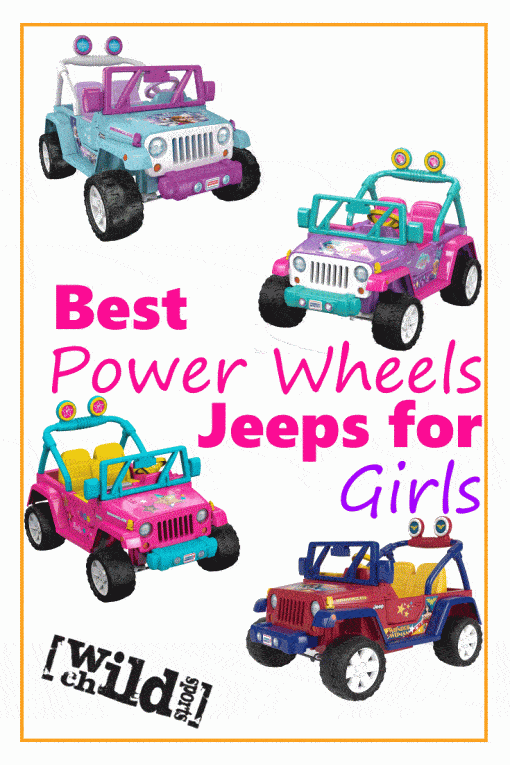 If you liked these Power Wheels Jeeps for kids, be sure to check out all of the other cool kids rides brought to you by Wild Child Sports.