24 Volt Ride On Jeep
Every kid loves to have a ride in a jeep. Having a cool ride-on toy to keep kids busy is a great idea.  When we were kids, our parents bought us a ride-on jeep for Christmas. I was already a year old when I started riding on the Jeep that my mom bought me. We had our own way of playing with it. My brother and I would jump in it whenever we could and pretend that we were driving to the park or somewhere else. We used to call it the "Flying Jeep."
Have fun and Learn too
It may not seem like it but there are many benefits of using a ride-on jeep with your child, like giving your child some independence, helping them learn how to drive without an adult, understanding how fast you can go both forward and in reverse.  They will learn how to drive safely and efficiently, enjoying the feeling of taking off while in the Jeep.  As a result, by doing these types of activities they are developing a bunch of skills that will continue to benefit them through out their lives.
Some of these are motor skills as they learn to operate the jeep, gaining a sense of balance as they ride on different types of terrain and slopes, they develop spatial play as they learn to be aware of their surroundings avoiding potential road hazards, and some group play concepts as they ride with friends or in areas where there are other small riders.   Lastly they'll be learning how to control the vehicle, how to drive skillfully, build their confidence and courage as they go cruising around places by themselves.
Our  Pick: The Joywhale 24 Volt Ride on Jeep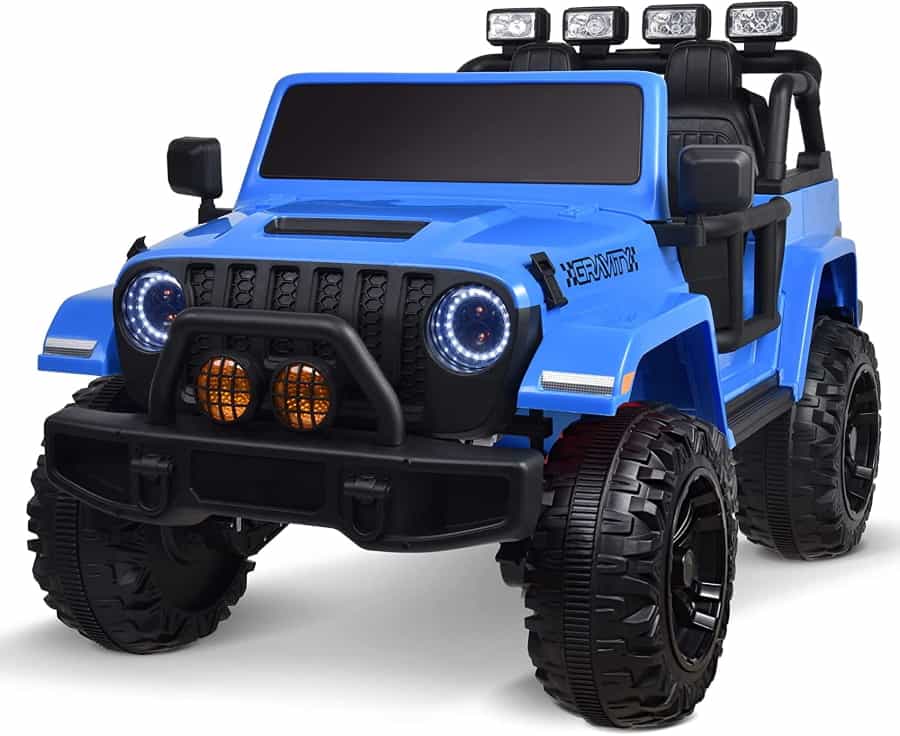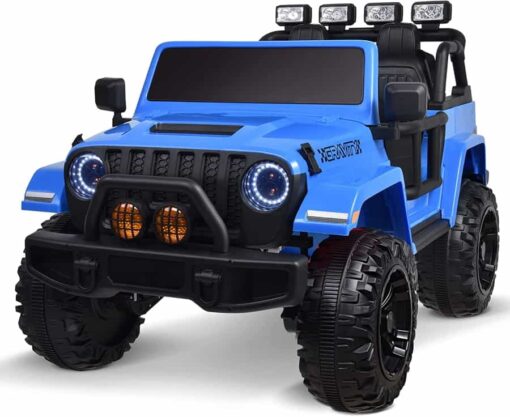 Features and Benefits of the Joywhale 24 volt ride on Jeep
Powerful
This 24 v ride on Jeep is powered by 4 – 24V motors to provide strong power to the vehicle on any terrain.  These strong motors and great build add to the overall use.  Speaking of a strong build, this Jeep has a max load capacity of 130 pounds, so even your larger kids can have a fun ride.
Fun For Kids
Not only can kids take the jeep for a quick spin around the yard, but there are also other fun features as well.  There's a built-in shift lever, music that can be connected via Bluetooth or FM radio, real working light, and a car engine sound.  All of these features add to the fun of any young adventurer.
Parental Controls
The Jeep is build to grow with your child.  The recommended rider age is from 36 months to about 8 years.  It comes with another cool feature too, a remote control. That's right when your young toddler is just getting started you can remotely control the Jeep with the included 2.4Ghz remote control.  You can literally take your young one for a ride without leaving the porch as you control the Jeep all around the yard.
Top Speed
If you are looking for a safe ride for the younger kids this one will do as it has a top speed of 4mph and a range of 2 to 4mph.  Keep in mind there are factors that will affect the top speed of any ride-on toy like the load, the driving conditions and even the outside weather.
Things to Consider Before Buying a 24V Ride on Jeep
As a parent, there is one thing I can say with certainty: If you're planning on buying your first ride on jeep for your kids, you absolutely need to consider the following:
The type of vehicle.
Your budget.
Your children's ages.
Your children's height and physical stature.
The maximum weight allowance for each child in your family (you may want to consider this when choosing the type of vehicle).
Choosing the best Jeep ride-on for your Child
When you have a child, you will likely want to buy them the best jeep ride-on that you can find.  Here are a few more questions to ask when getting ready to buy that Jeep.
Does your child love driving?
Do they like to jump and ride around on the jeep?
Are they into trucks?
Is the ride you're looking at the right size for your child?
It doesn't matter if you're looking for the best ride on kids jeep or any other ride on the jeep, there are many good choices out there.  Remember to teach your kids safe habits when riding and wear appropriate safety gear.
Thanks for stopping by and checking out our Razor Dirt Bike Review! Be sure to check out some of the other great ride-on toys dirt bikes and extreme sports products brought to you by Wild Child Sports!  Here are a few of our favorites.