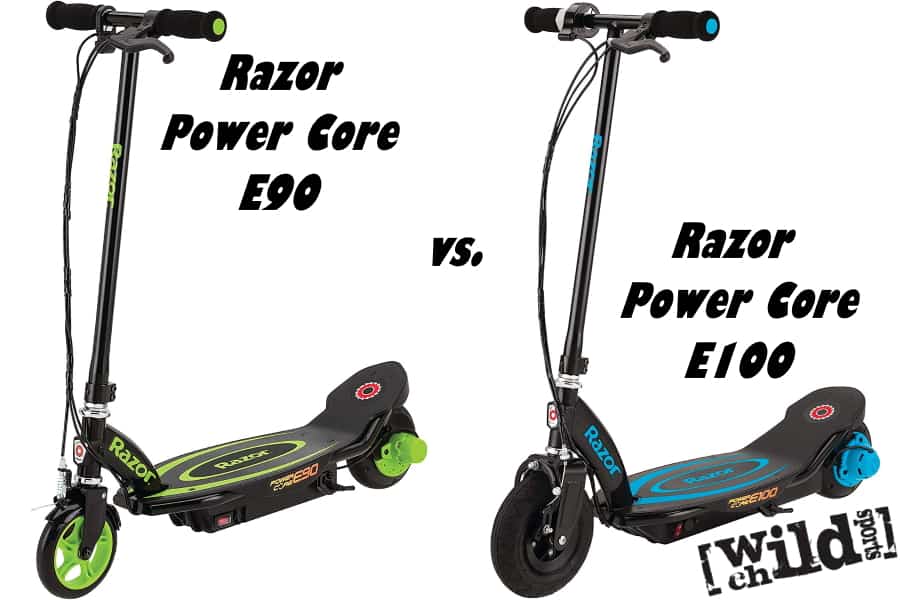 Razor E90 vs E100
Power Core series Comparison Review
Razor Worldwide make some great products for kids of all ages and today, we are going to take a quick look at two of the most popular entry level electric scooters, the Razor E90 vs E100.  We'll walk you through all of the main differences between these two electric scooters so you'll be able to decide which is best for you.  Both of these electric scooters are great for kids and both of these Razor ride on toys are going to provide you with a similar riding experience.
In short, they are very similar in size and performance, the E100 is slightly faster, but the E90 gives you a longer ride time.  Let's take a closer look at our comparison review of the Razor E90 vs E100!
What's the difference between the Razor E90 and the E100 Electric Scooter?
Here's a quick comparison table outlining some of the main differences in the E90 vs. the E100

RAZOR
POWER CORE
E90



RAZOR
POWER CORE
E100


FRONT WHEEL
Spoked Urethane
8" Pneumatic
TOP SPEED
10 MPH
11 MPH
RIDE TIME
UP TO 80
MINUTES
UP TO 60
MINUTES
MOTOR
90 WATT
100 WATT
THROTTLE
PUSH-BUTTON
TWIST GRIP
BATTERY
12 V
LEAD ACID
24 V
LEAD ACID
COLORS
GREEN
PINK
BLUE
RED
PURPLE
TOTAL WEIGHT
21.62 LBS
24.89 LBS
Rider Age and Weight Recommendations
Recommended rider age for the Razor E90 is 8 and up with a maximum rider weight of 120 pounds.
Recommended rider age for the Razor E100 is also 8 and up with a maximum rider weight of 120 pounds.
Here you can see that the E90 and E100 scooters are basically designed for the same sized rider.
Top Speed of the Razor E90 vs E100
The E90 scooter has a top speed of 10 mph.
The E100 electric scooter has a top speed of 11 mph.
Top speed of the E100 is a bit faster than the E90.  It's not significant, but if top speed is a deciding factor the Razor E100 wins out. 
Continuous run time
The E90 run time is up to 80 minutes with a 12 volt rechargeable battery system.
The E100 run time is up to 60 minutes with a 24 volt (two 12 volt batteries) rechargeable battery system.
Run time is better on the Power Core E90 by 20 minutes.  It doesn't seem like a lot, but when it takes so long to charge the scooter this makes a difference.  The Razor e90 wins this category
Size and Weight
The E90 scooter weighs in a just 21.62 pounds and is 31.7 inches long, 12.9 inches wide and 32.9 inches tall.
The E100 electric scooter weighs a little more dropping in at 24.89 pounds and is 35.1 inches long, 16 inches wide and 35.1 inches tall.
From a size standpoint, the E100 is about 3 inches longer, 3 inches wider and about 2 inches taller than the E90.  If you are looking for room to grow so your kid can enjoy the scooter longer the E100 might win out here. 
Brakes
The Power Core E90 had a front hand operated brake that pulls on the front fender causing friction on the front wheel
The Power Core E100 has a front hand operated caliper brake system.
Both braking systems will work for your child, but if I was choosing, I'd pick the E100 and its caliper brake system.  The smaller thinner front wheel of the E90 lends itself to working better with the fender system.
Finals Thoughts on these Razor Toys
So there you have it! Now you know the main differences between the the Razor Power Core E90 VS Power Core E100.  Both of these scooters are great little scooters for your young riders and will provide hours of great scooter riding fun.  Which one is right for you depends a lot on the size and experience of your child.  They both have similar recommendations for rider weight and height, but if you child is a little bigger the larger sized E100 may serve him or her better.  You can check the current prices of each at the links below.
Razor  Power Core E90 Electric Scooter
Razor Power Core E100 Electric Scooter


So what are you waiting for? Get one of these Razor ride on toys today!
Thanks for stopping by and checking out our Razor E90 VS E100 electric scooter comparison review! Be sure to check out some of these other great Razor electric toys brought to you by Wild Child Sports!