Is the E-XR the Best Razor Electric Scooter Ever?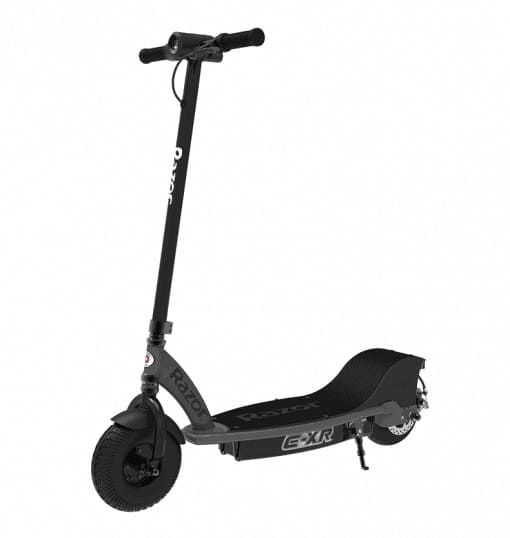 Check out the new Razor E-XR Electric Scooter
Time to check out another Razor electric scooter.  Here at Wild Child Sports, we love Razor ride-on toys! They bring quality and brand recognition that instills trust and safety with their products.  We were particularity stoked when we saw that Razor had released the E-XR, another great scooter in their electric scooter line. Over the last couple of years, the electric scooter market has been exploding with a wide array of new manufacturers producing a variety of different models. Razor was one of the first to bring to market these electric scooters but was definitely in need of coming up with some new, more innovative models to keep up with these new competitors. So in 2018, Razor released the E Prime and Power A scooters. While both of these models were a step in the right direction, they still didn't quite produce the speed and range that you could find with other electric scooters like the Xiaomi Mi. Until now!
So is the Razor E-XR the best Razor electric scooter ever? Yes, we think so and here's why: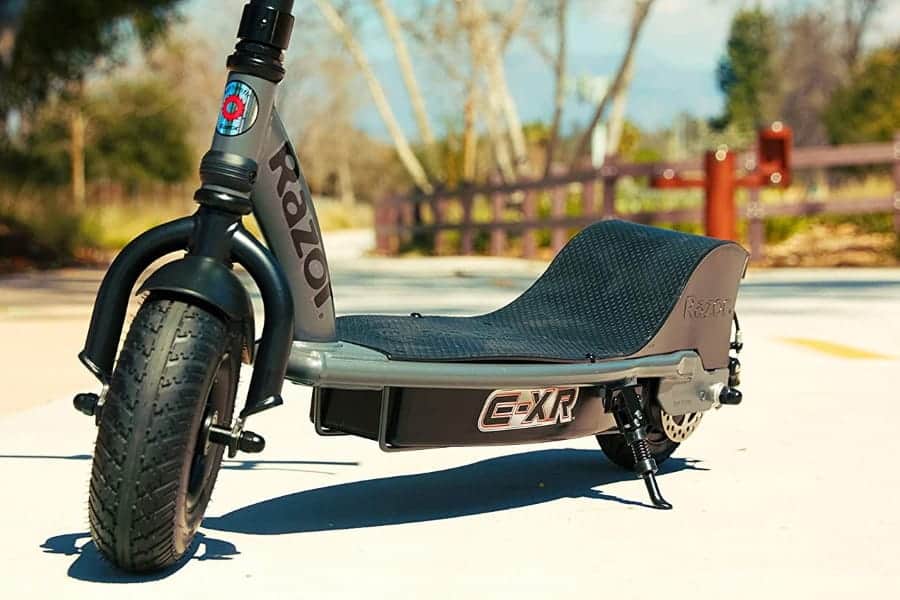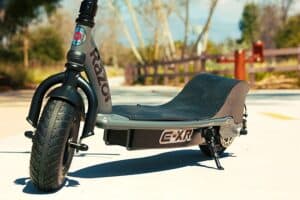 The E-XR is one of the fastest electric scooters by Razor with a top speed of 17 mph
One of the longest ranges of the entire Razor electric scooter lineup at 16 miles
At 17 mph for 16 miles this scooter has a ride time of almost an hour per charge
The Powerful 350 watt hub motor takes you where you want to go, even up the hills
Maximum rider weight of 220 pounds allows for kids as well as adults to enjoy the ride
The Large, 9" pneumatic front tire and 8" airless, flat-free rear tire smooths out the rough road and sweetens the ride
What do we like most about the
Razor E-XR Electric Scooter
?
DRIVE-TRAIN – this Razor electric scooter uses a rear wheel, hub driven, brushless motor. A lot of competitors use a front wheel, hub driven motor. Given the torque that is produced on these scooters, we prefer that power to be produced from the rear wheel. This also allowed Razor to add a larger, 9 inch tire to the front fork to help with absorbing bumps and maximizing steering and overall control.
CHARGE TIME – the charge time for the Razor E-XR scooter is up to 4 hours. This is a huge improvement for Razor when comparing the E-XR to some of their other electric scooters that can take more than 8 hours to charge.
What would we change about the
Razor E-XR Electric Scooter
?
KICK TO START – This is personal preference but we just think it's a little annoying to have to push the scooter as you would a kick scooter to get it started. In other words, you have to be traveling at least 3 mph while pressing the throttle before the motor turns on. Not a deal breaker by any means, just a little inconvenient.
Where can you buy this Razor scooter?
The price of the E-XR is higher than your typical mid-range electric scooter. With that being said, you will get a higher top speed, better range and more power than you would find with some of these other models.
Other Razor E-XR Specs & Features
LED headlight
LED brake light
Rear disc brake
Variable speed throttle
Heavy duty steel frame and fork
Check out the Razor E-XR in ACTION!


So what are you waiting for? Get the Razor E-XR TODAY!
Thanks for stopping by and checking out our Razor E-XR Review. Be sure to check out some of the other cool electric scooters brought to you by Wild Child Sports.