Kids Offroad Electric Scooter – Razor RX200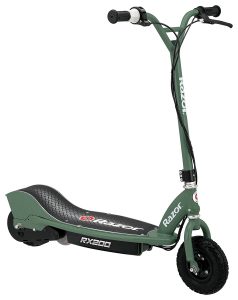 Kids Offroad Electric Scooter by Razor
Tired of just being able to ride your electric scooter on the pavement? Well, problem solved with the Razor RX200 Kids Offroad Electric Scooter! This Razor scooter is going to provide you with tons of offroad fun without breaking the bank! The RX200 is another well built product from Razor that gives you higher overall ground clearance with a high torque motor to have you climbing up dirt hills in no time!
Let's check out the details of this offroad machine!
Who is the Razor RX200 scooter designed for?
This kids offroad electric scooter is designed for riders ages 13 and up with a maximum rider weight of 154 pounds.
How fast does a Razor RX200 go?
The Razor RX200 scooter top speed is 12 mph with up to 40 minutes of continuous use on a full charge.
What does this Kids Offroad Electric Scooter cost?
The RX200 is going to run you under $250. Check out the current price on the RX200.
Razor RX200 Electric Scooter Features
High-torque, chain-driven motor
24V (two 12V) rechargeable battery system
Rear sprocket drive train
Freewheel for coasting
Alloy wheels
Offroad tires
Disc brakes

Check out the Razor RX200 in Action!


If you liked this Razor kids offroad electric scooter, be sure that you check out some of these other great scooters and hoverboards brought to you by Wild Child Sports!
(Visited 473 times, 1 visits today)