Razor DXT Drift Trike
If you're looking for an entry level drift trike and don't want to break the bank, then look no further than the all new Razor DXT Drift Trike. The Razor DXT Drift Trike is one of the newest products to be added to the Razor lineup. This particular drift trike is going to run you somewhere in the neighborhood of $115. This is a very good price point given the fact that many of the higher end drift trikes will run you upwards of 300 bucks. If you are interested in one of these high performance drift trikes, be sure to check out the Triad Drift Trikes lineup.
If you're new to trike drifting and not sure what type of drift trike is best for you, be sure to take a look at our Drift Trike Buyers Guide.
Let's take a closer look at the product specs for this particular Razor drift trike!
Razor DXT Drift Trike Product Specs
2 piece steel frame
20 inch front wheel with an internal free wheel
10 inch rear wheels with 4 inch contact patches and high speed bearings
Moto-style handlebars with pro-style grips
Adjustable bucket seat with 2 different positions
Recommended rider age – 14+
Maximum rider weight – 198 lbs.
Check out the Razor DXT Drift Trike in action!
Razor DXT Drift Trike Reviews
Since this particular drift trike is still fairly new, we haven't been able to collect too much consumer information. Here is some of what we've heard thus far:
---
"Great overall construction of this trike. Another very well built and reliable product made by Razor."
---
"This drift trike is a bit larger than the average trike. I recommended adhering to the recommended rider age of 14 and older. Younger children will have difficultly reaching the pedals."
---
"The Razor DXT Drift trike has provided hours of fun for both of my children. I highly recommend this product!"
---
"Very happy with how well it is made and how easy it was to put together. I have the whole neighborhood wanting one."
---
Razor DXT Electric Drift Trike
If you're really looking to take your trike drifting to the next level, be sure and also check out the all new Razor DXT Electric Drift Trike!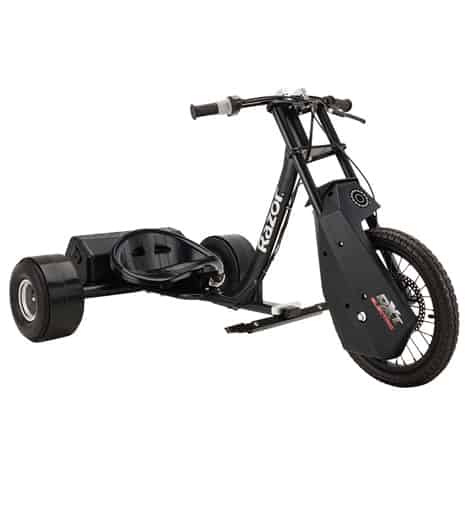 Check out the Razor DXT Electric Drift Trike in action!

Be sure to check out all of our Razor products buyers guides and some of the other great action sports toys brought to you by Wild Child Sports!
(Visited 2,362 times, 1 visits today)