Razor E300 Electric Scooter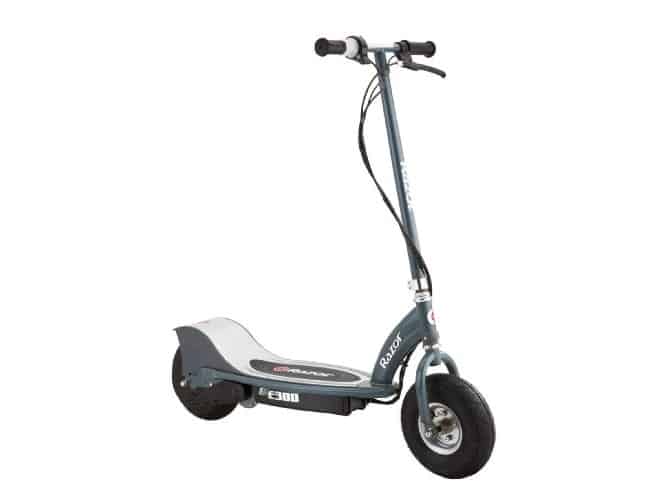 E300 Electric Scooter by Razor
Get around with the most powerful and coolest electric scooter by Razor. The E300 Electric Razor Scooter includes everything that parents and teens have loved in the past with new matte gray styling. Boasting a super high-torque, ultra-quiet single speed chain-driven motor, and a handy twist-grip throttle, the E300 electric scooter is the perfect fun ride for teens or adults wanting to run errands or zip around the neighborhood.
Unlike Razor's E100 scooters, whose motor requires a small manual kickoff, the razor E300 motor starts off from a standing position. Once on the move, its ultra-powerful 300 watt electric motor ramps up to 15 miles per hour – fast enough to have fun, but not fast enough to be a menace on the street or sidewalk. And thanks to the long-lasting 24 volt rechargeable battery system, which takes about twelve hours to fully charge, E300 electric scooter riders can cruise for up to 40 minutes of continuous use.
Razor E300 Highlights:
Boasting a high-torque, ultra-quiet chain-driven motor, and a handy twist-grip throttle
High-performance motor with speeds up to 15mph
Powered by a long lasting rechargeable 24V Seal battery system
Features a hand operated rear brake, spring loaded kickstand, and extra wide 10-inch pneumatic tires for a smooth ride
Super-sized deck and frame for riders of all sizes
Initial charge time: 12 hours. Charge the battery prior to use.
Recharge time: Up to 12 hours, even if the light turns green. Recommended maximum charging time is 24 hours.
Run time: Up to 40 minutes of continuous ride time. Run time may vary depending on riding conditions, climate and/or proper maintenance.
Want all of the details of the Razor e300?  Here's a link to the Razor e300 manual: Razor e300 manual
Here's a video of the Razor E300 Electric Scooter
Check out what others say about the Razor E300 Electric Scooter
---
"I'm 160 lbs, I live in Boulder and use this to get to and from classes. The motor is quiet enough that I haven't been bothered by any authorities on campus. It makes it up the hills in Boulder just fine. All I hear while riding it are comments like "I need one of those". No problems thus far. Rode it in heavy rain and didn't find any issues."
---
"I use this scooter to take on the train and then ride to work. It gives me an easier commute then waiting for the bus and packs enough power to get me to the office. Small enough to fit on a 2 seater row in a train with room to spare for my feet and bag."
---
"Purchased this scooter for my 12 year old son for Christmas and I am somewhat surprised at the quality. I would say that it is quite well made. I was a little skeptical of these items, being they were made in China, but I am quite happy with them so far."
---

So what are you waiting for? Get your Razor e300 electric scooter TODAY!
If you liked this Razor electric scooter, be sure to check out some of these other great action sports toys brought to you by Wild Child Sports!
(Visited 367 times, 1 visits today)