Best Electric Scooters for Kids by Razor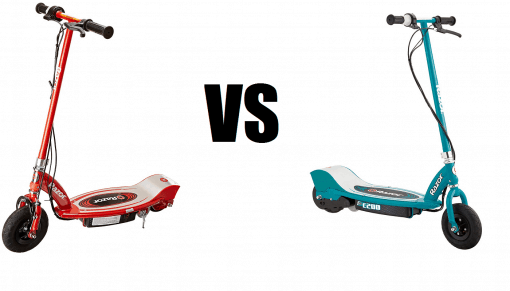 Which Razor electric scooter is best?
Wondering which Razor scooters are the best electric scooters for kids? That's why we're here at Wild Child Sports to give you some of the best information to help you choose from the best Razor electric scooters for kids. There are a lot of choices out there, but by choosing Razor, you've already picked one of the top electric scooter brands in the industry. You are at the right place and with our guide and tips you will find the right electric scooter for your needs!
Razor Electric Scooter Power Core E90 Review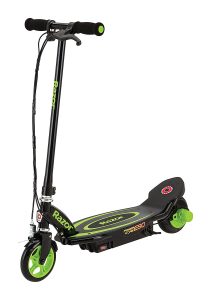 First lets take a look at one of Razors most popular electric scooters, the Power Core E90. The revamped E90 features Razor's Power Core technology and design that increases the ride time by almost double while delivering the same result with it's overall power. It can handle up to an 80 minute continuous ride. This scooter is designed to be rider friendly and maintenance free.
The Power Core E90 features a kick start high torque hub motor that provides the power. It has a simple push-button throttle for easy acceleration and reaches speeds of up to 10 miles per hour.  As always Razor has safety in mind with its front fender hand operated brake system. It's light weight, weighing in at only 22 pounds, but its durable, constructed with an all steel frame and fork.  With its durability, ride time and lower cost this has become one of the most popular electric scooters for beginner riders.
Who is the Power Core E90 designed for?
This razor electric scooter is built for fun and is recommended for kids ages 8 and up.  It can support a rider of up to 120 pounds as it cruises down the block at speeds of up to 10 miles per hour for up to 80 minutes of continuous riding.
How much does the Razor Power Core E90 electric scooter cost?
As with most products the price varies from time to time, but you can expect to pay less than $150 to pick up one of these cool scooters.
What do we like most about the E90 electric scooter?
COST – At this point there is a lot of value for what you get.  This is one of the lowest cost electric scooters great for beginner riders.
RIDE TIME – Compared to a lot of other entry level scooters, a ride time of around 80 minutes is pretty sweet!
What would we change about the Razor Power Core E90?
CHARGE TIME – As with most electric scooters it takes a while to charge the battery.  This electric scooter can take up to 12 hours to charge.
Where do you buy the Power Core E90 Razor Scooter?
Here's where you can find the Power Core E90 best price:
Razor Electric Scooter Power Core E100 Review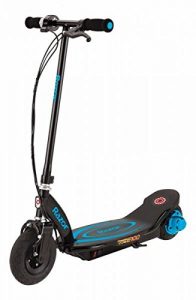 Like the Razor Power Core E90, the Razor electric scooter Power Core E100 has the Power Core technology that gives you about double the ride time and 50 percent more power than its predecessor, the Razor E100. The Power Core E100 comes equipped with an in-wheel hub motor which means low maintenance, more efficient and a lighter overall weight. It's 24V battery coupled with the Power Core technology give it a ride time of about 60 minutes with top speeds reaching about 11 mph. This is slightly less of a ride time but edges out the Razor Power Core E90 in speed.
Who is the Razor Power Core E100 electric scooter designed for?
The Razor Power Core E100 was designed with younger riders in mind. It is recommended for riders ages 8 and up, but only supports a maximum weight of 120 pounds.
How much does the Power Core E100 by Razor cost?
We've found prices ranging from around $130 to $160 at major retailers.
Where do you buy the Razor Power Core E100
Check out where to find the Razor Power Core E100 best price:
Razor Electric Scooter E200 Review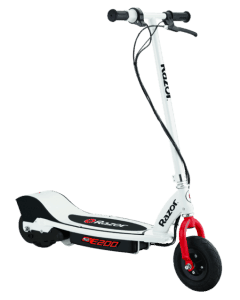 The Razor E2oo is a great little scooter. It comes equipped with a high torque 200 watt motor. Unlike the Power Core scooters this scooter has a chain driven motor system that will deliver speeds of up to 12 miles per hour. This is slightly faster than the Power Core E90 and E100. It has a twist grip acceleration and hand operated rear brakes.
Who is the Razor E200 designed for?
The E200 electric scooter is designed for the teen rider or those who are a little more experienced with electric scooters. It's all steel durable all steel frame is designed to support riders up to 154 pounds and is recommended for ages 13 and up.
How much does the E200 electric scooter cost?
Looking around we were able to find prices ranging from about $160 to around $240 for the Razor E200. If you get it on sale at the lower end of that range you are getting a great deal.
Where do you buy the Razor electric scooter E200?
Finding the Best Electric Scooters for Kids – Things to Consider
Razor electric scooters are made for all types of riders from young beginner riders to adult experienced riders. Depending on your need, they make a scooter for you.  Just picking one that fits is not the only consideration though. You might need a little more information to help you decide. Here's a few other important factors to consider as you make your electric scooter purchase.
Speed
Yes, of course it's the first thing on the list for any Wild Child Sports enthusiast! You know what I'm talking about! Speed get's that adrenaline going, but with kids, too much may not be such a good thing.  Razor has a variety of scooters that range in speeds from about 9 mph clear up to about 18 mph. When choosing a scooter be sure to consider how fast you want your kids zooming around the neighborhood. You may not want your 6 year old speeding through the neighborhood as fast as your 16 year old.
Durability
Hey if you are going to drop a couple hundred dollars or so on a scooter for a kid, it better be able to take a wipe-out or two. Let's face it, kids are kids and it's bound to happen. Kids are tough on toys and getting a quality electric scooter that can take what a kids dishes out will be important.
Safety
Yep, you've got it.  Safety is important too.  Razor makes a good durable safe product. Of course a lot of how safe the product is depends on how it's used by you or your kids.  As parents you have the responsibility to teach your kids safety and one of the best things you can do is be persistent in making sure your kids have the right gear to protect them. Wearing a good pair of shoes to protect your feet as well as other protective gear such as helmets and knee pads will help to ensure a safe and fun ride.
Ease of Operation
Another consideration is the ease of operation.  Younger kids might need a foot brake like the Razor E90 whereas older kids are comfortable with the hand brake. All of the Razor electric scooters come equipped with a simple to use twist grip throttle. As soon as your child lets go there is no more acceleration.
Design
When you're looking at the best electric scooters for kids one major factor is design. What the scooter looks like will have a big effect on how often it gets used. Kids are picky that way. Razor has some of the hottest designs that look great as well as provide a great feel and ride for your kids. When choosing the best electric scooter for your kid you may want to consider how they'll fit on the scooter. Is the deck wide enough to ride standing straight with your feet side by side or will you have to have one foot in front of the other? Will the scooter you are considering be designed to hold the weight of your kid? These a couple of good questions when considering the scooter for you.
Battery Life
Nothing will bum you kid out more than always waiting around for his or her electric scooter to charge.  One of the most important features of finding the best electric scooter is finding one that will give you a good ride time.  Razor makes some great scooters and all of them have a ride time of about 40 minutes or greater.  Imagine what it would be like to wait hours just to have a 15 minute ride like some of the other brands offer? If this is one of the most important factors to you and your kids, you may want to take a look at the Razor Power Core 90, it offers a ride time of up to 70 minutes per charge.  That's pretty awesome!
Final Thoughts on the Best Electric Scooter for Kids
In summary, if you are looking for the best electric scooters for kids remember, it's not only the price or brand you should consider but take a look at some of the other important factors that will help you make a great decision and provide an excellent experience for your kid for years to come.


If you liked this best electric scooters for kids guide, be sure to check out some of these other great action sports toys brought to you by Wild Child Sports!
(Visited 1,786 times, 4 visits today)