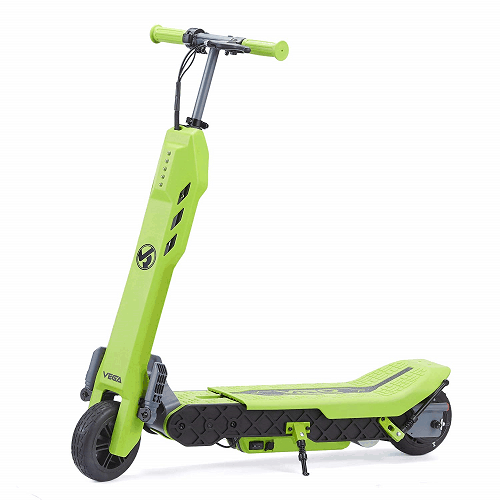 Kids Electric Scooter – VIRO Rides Vega
Let's cut to the chase, the concept of a 2-in-1 electric scooter and mini bike are really cool but the process of changing from scooter to mini bike or vice versa is a little bit harder than it looks. The Vega weighs about 41.5 pounds so it's going to take some effort to move this thing around. For younger riders, they might just have to rely on an adult to help them out when switching between the scooter and mini bike.
It's also worth mentioning that the Vega mini bike is really more like a seated electric scooter. If you're looking for a true electric mini bike, you should probably look at something like a Razor Dirt Bike. Aside from that, the Vega is a solid electric scooter with good range and top speed. You might also want to check out the VIRO Rides VR 550E electric scooter as well! Now that we've got that out of the way, let's take a closer look at this kids electric scooter!
Who is the 
VIRO Rides Vega 2-in-1 Electric Scooter 
designed for?
This kids electric scooter is designed for riders ages 8 and up with a maximum rider weight of 120 pounds.
How big is the Vega Kids Electric Scooter?
The VIRO Rides Vega weighs 41.5 pounds. Here are the dimensions of the Vega:
Length: 38.4 inches
Width: 15.9 inches
Height: 38 inches
How fast does this kids electric scooter go?
The VIRO Rides Vega top speed is 10 mph with a range of up to 6 miles or 40 minutes of continuous use on a full charge. The charge time for this electric scooter is 10-12 hours.
What do we like most about the
VIRO Rides Vega 2-in-1 Electric Scooter
?
VERSATILITY – We really like how VIRO Rides has combined two different electric ride-on toys into one. They've created an easy to use folding mechanism that turns this electric scooter into a seated scooter or mini bike. The Vega also folds down for easy transportation and storage. Like we mentioned at the beginning of this review, just keep in mind that switching between scooter and mini bike might be a challenge for a younger rider and they might need some help from an adult.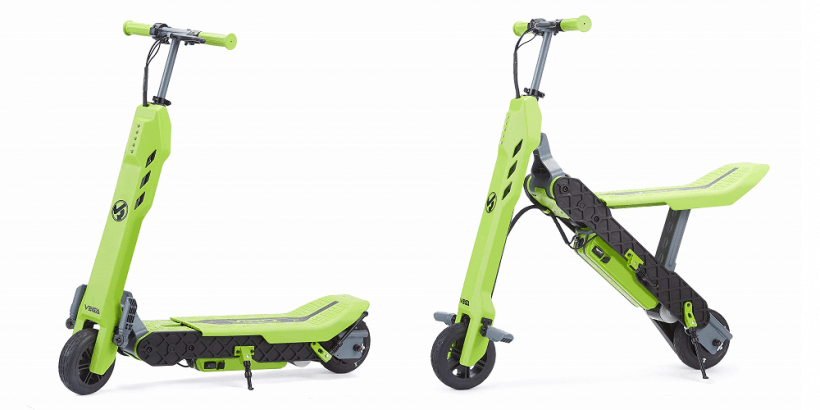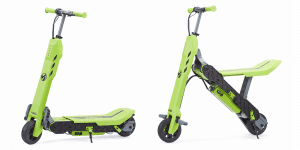 What would we change about the
VIRO Rides Vega 2-in-1 Electric Scooter
?
CHARGE TIME – As we mentioned earlier, the charge time for the VIRO Rides Vega is anywhere from 10-12 hours. While this longer charge time isn't a deal breaker, it's just something to be aware of before you make your purchase.
What does this kids electric scooter cost?
The VIRO Rides Vega 2-in-1 Kids Electric Scooter and Mini Bike is going to run you under $300. This is a great price point given the fact that you are basically buying an electric scooter and electric mini bike that combine into one awesome riding machine! The VIRO Rides Vega is available in green and black. These kids scooters have been a really hot item and are selling out fast! Check it out!
Green VIRO Rides Vega
Black VIRO Rides Vega
VIRO Rides Vega 2-in-1 Kids Electric Scooter and Mini Bike Specs & Features
UL 2272 Certified
100 watt motor with chain drive
24V 5Ah rechargeable battery
Height adjustable handlebars
Thumb throttle
Lever activated rear brake
LED lights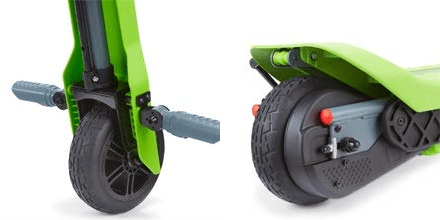 Check out this Awesome Kids Electric Scooter in ACTION!


So what are you waiting for? Get the VIRO Rides Vega Scooter TODAY!
Thanks for stopping by and checking out our VIRO Rides Vega Review. Be sure to check out some of the other cool electric scooters brought to you by Wild Child Sports.