Adult Drift Trike by Coleman Powersports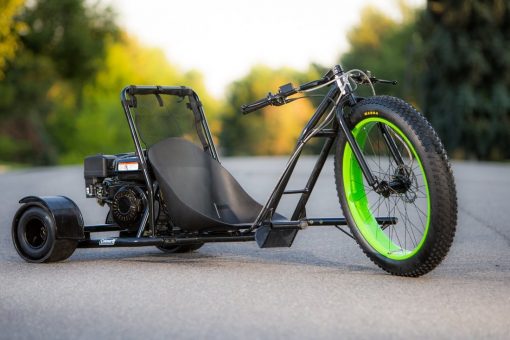 Coleman Powersports DT200 Gas Powered Drift Trike
Trike drifting isn't just for kids anymore! Check out this adult drift trike by Coleman Powersports!
What is the top speed of this adult drift trike?
The top speed of the Coleman DT200 drift trike is 19 mph.
How much does the Coleman Powersports DT200 Drift Trike cost?
This gas powered drift trike is going to run you just under $1000.
Coleman Powersports Drift Trike
 Specs
198cc 4 stroke OHV 6.5 Horsepower engine
Easy pull start
PVC rear wheel drift sleeves

Hand operated front & rear hydraulic disc brakes

Weight of adult drift trike – 270 pounds
Check out the Coleman Powersports Drift Trike in Action!





So what are you waiting for? Get your Coleman DT200 Gas Powered Drift Trike Today!
Be sure to check out some of the other great drift trikes brought to you by Wild Child Sports!
(Visited 1,885 times, 1 visits today)