MotoTec Gas Pocket Bike
The MotoTec Gas Pocket Bike is the ultimate kids or adults gas powered pocket bike. This powerful little bike is great for driveway and parking lot fun.  You'll feel the wind whipping through your hair as you enjoy cruising around cones and speeding through trails with ease. Even better, you can pick it up and take it with you almost wherever you go. Grab your Mototec Pocket bike today!
MotoTec Pocket Bike Features
The MotoTec pocket bike has a 33cc two stroke motor, which provides adequate power to it. This motor is air cooled and has received the approval of EPA. You can simply start the bike by pulling the level that can be found on its side. However, you need to make sure that you have filled the gas tank before you start the engine. You need to be careful when fueling this gas pocket bike because you need to add two-stroke or unleaded oil and fuel with a ratio of 32:1. The fuel tank is capable of holding 1.25 liters.
The MotoTec Gas Pocket Bike has the ability to offer an impressive riding range of up to 20 miles per full tank of fuel. In addition, it is in a position to carry a weight up to 170lbs. This bike has been provided with two brakes in order to deliver enhanced safety and control for the riders. You can find one brake in the front and the other in rear. It has been designed for a single rider, but can offer enhanced comfort due to the padded seat. Kids will not have to go through any hassle when going for a ride in this bike because the handlebar angle can be adjusted as per specific requirements.
MotoTec Gas Pocket Bike Performance
The MotoTec Gas Pocket Bike top speed is somewhere around 25mph. As a result, you will get the opportunity to receive a fun filled ride with this bike. The lighter frame and the relatively bigger engine that can be found in this pocket bike has given life to such a high speed. Along with the enhanced speed, the designers of this pocket bike have paid special attention towards safety as well. That's why you can find a two brake system in this product.
The MotoTec pocket Bike is built with high grade components and upgraded standard features.  This 33cc Gas Pocket Bike is the definition of "Pocket Bike".  Standing at only 22 inches tall, 38 inches long and a mere 20 inches wide the MotoTec Gas Pocket Bike can be taken almost anywhere. You could almost put it in your pocket. The MotoTec Gas Pocket Bike is indeed pocket sized but has astoundingly great capabilities. This pocket bike can handle up to 170 pound riders! MotoTec Gas Pocket Bike comes in two colors, either Black or Blue.
So what's this MotoTec Gas Pocket Bike going to cost me anyway?
Prices vary from time to time depending on availability. You should be able to pick up this MotoTec Pocket Bike for somewhere around 300 bucks.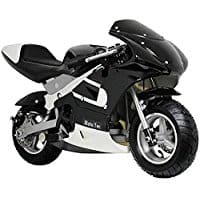 Mototec Gas Pocket Bike Specs
Recommended Age: 12+
Max Rider Weight: 170 lbs
Motor: 33cc 2-Stroke, Air Cooled, EPA Approved
Engine Start: Pull Start
Gas Tank: 1.25 liters
Cruising Range: 20 miles per tank
Fuel/Oil: Unleaded / 2-stroke Oil 32:1
Transmission: Centrifugal (chain drive)
Pocket Bike Size: L=38in, W=20in, H=22in
Seat Height: 18in
Seat: Padded (single rider)
Handlebars: Angle Adjustable, Not Height
Throttle: Variable twist-grip
Tires: 90/65-6.5 Pneumatic (11 inch)
Frame: Steel
Brakes: 1 disc front, 1 disc rear
Box Size: 43x15x24 inches
Box Weight: 50 lbs
Assembly : Some Assembly Required
Product decoration and specifications subject to change without notice.
Warranty: 30 days parts replacement
Check out the Mototec Gas Pocket Bike in action 

A Final Word on the MotoTec Gas Pocket Bike
If you are looking forward to purchase a fun-filled pocket gas bike, MotoTec Gas Pocket Bike would be one of the best options available out there in the market to consider about. You would definitely love the features that are provided to you by this bike. Even your kids would love to spend time with it. It can be purchased from the market at an affordable price as well. The benefits and thrill that you can receive from this gas pocket bike are totally worth when compared to the amount you pay. Therefore, you can purchase MotoTec Gas Pocket Bike without keeping any doubts in your mind.
Be sure to check out some of these other great action sports toys brought to you by Wild Child Sports!
MotoTec Gas Pocket Bike – Cruise in Style!