Razor Dirt Quad 500 Review
The Dirt Quad 500 is Razor's largest and fastest kids ATV currently available. One of the nicest things about this Razor four wheeler is not having to worry about balancing on two wheels the same way that you would on a Razor dirt bike. It can be a great entry level ATV to help to get your rider comfortable with using a twist grip, variable speed throttle and hand operated rear disc brake. Plus, it can handle a rider up to 220 pounds. This can mean more outdoor fun for mom or dad as well! Let's go ahead and take a closer look at the Dirt Quad 500.
If you're not sure which Razor four wheeler is best for you, be sure to check out our Razor Dirt Quad VS Dirt Quad 500 Review.
Who is this electric four wheeler designed for?
This Razor electric quad is designed for kids ages 14 and up with a maximum rider weight of 220 pounds. You're probably thinking, "can someone younger than 14 years old ride this quad?" Well, it depends. As is the case with all electric ride on toys, you will have to assess the experience level and skills of your rider to determine if this electric quad is a good option for them.
How big is this Razor electric quad?
The Razor Dirt Quad 500 weighs 113 pounds. Here are the other dimensions of this kids ATV:
Length: 50.4 inches
Width: 28.7 inches
Height: 31.9 inches
If you are concerned about your child being able to maneuver this electric quad around, just remember that they aren't having to hold this ATV upright the same way they would a traditional dirt bike. However, four wheelers are known for having a higher center of gravity and there is a risk that it could flip on its side. Knowing how to throttle and take corners the right way will greatly reduce the risk of this happening. Plus, the Dirt Quad 500 does have a much lower top speed than most gas powered four wheelers. This also helps to make this quad a bit safer and helps to reduce the risk of flipping over.
What's the top speed and ride time of this four wheeler?
The Razor Dirt Quad 500 top speed is 9 mph with 60 minutes of continuous use on a full charge. This translate to a range of about 10 miles.
The Dirt Quad 500 has a charge time of 12 hours (charger included).
What can affect the top speed and ride time of the Dirt Quad 500?
The lighter the rider, the higher the probability of hitting a top speed above 9 mph. Along those same lines, a lighter rider might have a ride time of more than 60 minutes whereas a heavier ride could see a ride time of less than 60 minutes.
Your throttling can impact ride time. If you're constantly starting and stopping, this could decrease ride time.
Lastly, the terrain you ride can impact both top speed and range. For example, if you're riding up a lot hills, this will require more output from the battery. Or maybe you like to ride in areas with some sand or mud. This can make the Dirt Quad 500 have to work harder to get through this terrain, thus draining the battery faster and not allowing you to hit the normal top speed.
Razor Dirt Quad 500 Specs & Features
High torque 500 watt motor
36 volt rechargeable battery system
Powder coated tubular steel frame
Shatter resistant plastic fairings
Adjustable handlebars with soft, rubber grips
Steel front and rear wheels with pneumatic tires
Full rear suspension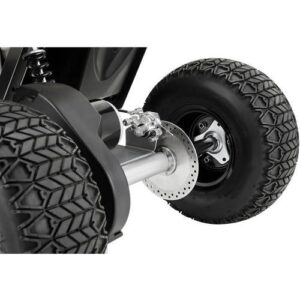 Where do you buy this kids electric four wheeler?
Here is where you can find the Razor Dirt Quad 500 current price:
Check out the Razor Dirt Quad 500 in Action!


Thanks for stopping by and checking out our Razor Dirt Quad 500 Review! Be sure to check out some of these other great action sports toys brought to you by Wild Child Sports!
And remember to always educate your child on motorcycle safety and have them always wear the appropriate safety gear!