Swurfer Swing – Surf the Skies!
What could be better than swinging on a swing on that big tree in your yard? Swinging through the skies on your new Swurfer Swing! The Swurfer Swing will be able to provide hours of fun for your entire family. You can ride the Swurfer in either a standing or seated position. It's great for exercising or just relaxing. Each board is individually shaped, sanded, and finished by hand to ensure optimum quality and safety. So what are you waiting for? Grab your very own Swurfer today!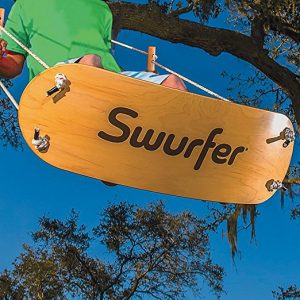 What does the Swurfer Swing cost?
The Swurfer Swing is going to run you somewhere around $130 for the Swurfer, 80 feet of rope and 1 set of handles. The Swurfer, 160 feet of rope and 1 set of handles is going to run you somewhere around $155.
Swurfer Swing Specs
Designed for kids (6+) and adults with a 250 lb weight limit
Handcrafted in the USA from hardrock maple.
Board dimensions 33 inches long and 10 inches wide
Adjustable handles for any height.
Easy to set up and install
Swurfer Swing Reviews
"My kids love the Swurfer! Easy to put up and a blast to use!"

"It's a lot fun but definitely takes some practice. Great purchase!"

"Best swing EVER! You can stand or sit on it and surf the skies."

"Our grand kids love it and their parents use it too!"
Check out the Swurfer Swing in Action!
Be sure to check out some of these other great action sports toys brought to you by Wild Child Sports!
(Visited 74 times, 1 visits today)