For a long time, the younger kids have been left out of the thrilling experience of drifting as has only been a thing for older children and teens. With the latest Razor Crazy Cart Shift, it's now possible and easier for children as young as 6 years old to enjoy the thrill of sliding around the corners while learning the art of drifting.  Made possible by Razor's improvements on the latest models of the Razor Crazy Cart Shift, kids of all ages can have that drifting experience.
It's not just for the younger kids either, older kids can use the crazy cart shift to the fullest as it caters for all the fun they need.  Let's take a look at the Crazy Cart Shift and seet why you as a parent, might consider getting one of these awarding winning ride-on toys for your child.
Top Reasons Why People Like the Razor Crazy Cart Shift
Variable Speed Controls
Unlike a lot of other karts or ride on toys built with the younger child in mind, Razor's Crazy Cart Shift has a variable speed controller.  This feature fully enables your child to make quick and necessary stops and starts as well as drifting at different speeds kids are comfortable with while riding. This is made possible by the foot controlled accelerator pedal (yeah it's the gas pedal, but there's no gas) along with the drift bar situated at the rear end of the cart.  This design eliminates the jolts that customarily occur in those other ride on toys from braking and starting to go hence when you need to stop the Razor Crazy Cart Shift is very smooth. The cart also has a top end speed of 8 mph which is fast enough bring some real fun and at the same time keep your child safe and minimize the risk of accidents.
For those who are really in the beginner stage the Razor Crazy Cart Shift comes with a hidden top speed switch for parents to control how fast the cart will go.  It can be switched from the standard 8 mph for bigger kids to 2.5 mph for the younger ones.  Because of this the Crazy Cart Shift can be a great choice as kids grow.
Drive and Drift System
This new feature has been gladly accepted making the Razor Crazy Cart Shift the top-rated kids ride toy. This type of steering wheel allows navigation of a full 360-degree turn which is a full swerve within a blink of an eye. This practically means, your child can safely drift and have multiple spins at his discretion.  It's  a simplified system Razor developed which engages automatically as driver turns allowing them to keep both hands on the wheel.
Rechargeable Battery and its Durability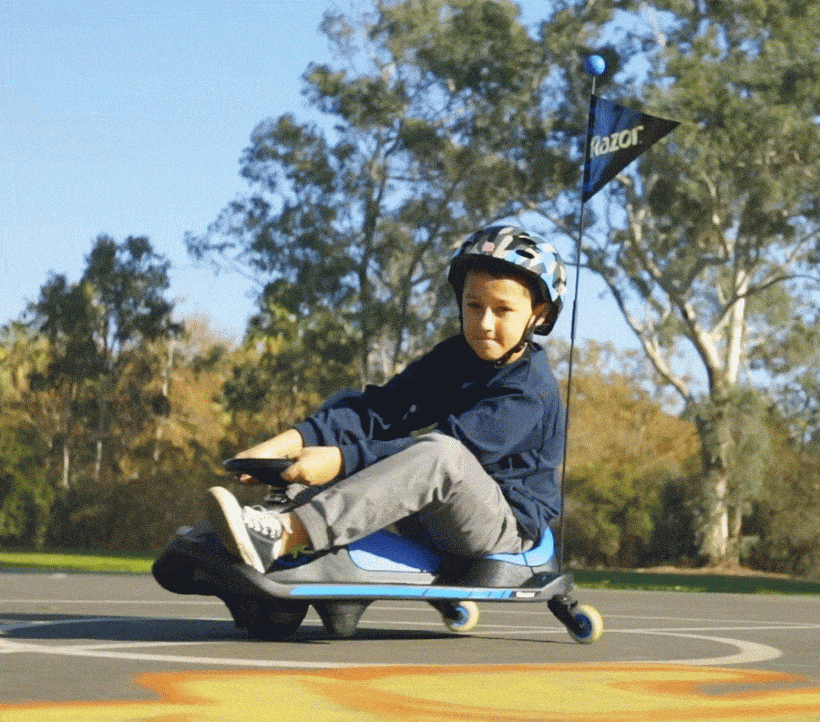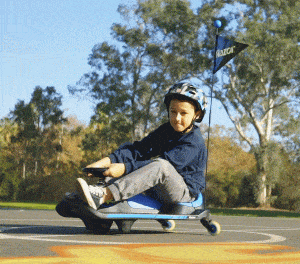 With a battery life of up to 40 minutes, the crazy cart shift gives your child a whole new experience of pure and uninterrupted outdoor fun. Though some enthusiastic children may see it as a short ride time, it is plenty of time to take the cart for a spin and enjoy the adrenaline rush that drifting can bring. The cart uses a 24-volt rechargeable battery that's pretty simple to charge.  It can be plugged to a standard wall socket.
In terms of charging, you will need to recharge it for 12 hours of everyday use. In this way, you will not have an over-increased electricity bill. The cart can only be used on dry days therefore in times of winter or the case of rain, you as a parent will not need to worry about bills increasing from charging of the Razor Crazy Cart Shift.
Other Improvements
This smaller type of Crazy Cart was released to introduce younger children in the fun activity of drifting. Here's what Razor has done cater to young children:
It has a wider rear wheelbase that offers a great balance helping your child to drift and spin easily at his comfort. More stability means a safe ride and the Razor company has endeavored to make all their products as safe as possible. The seat has also been extended to provide comfort for the child therefore, no scrunches and the child can fully fit in the seat irrespective of size and weight.
The casters have also been improved and stabilized, in that, they do not wear and tear easily as the casters that had been previously released.
The steering mechanism has also been improved hence more accurate and precise according to the desire of the user thus providing a responsive drifting experience. Therefore, irrespective of the slope or terrain of the land, it makes it easier for your child to reverse and swerve within a few moments.
The accelerator switch has been removed in this new feature since many of the customers had been disappointed in the previous version of this feature because it was ambiguous for children to use and would sometimes misbehave. Most of the people are glad about the removal of this feature making gliding and drifting easier and fun.
These improvements have made the Razor Cart toy an exceptional toy with the best experience of drifting and gliding.
Rider Age – built for the beginner drifter
Previous versions of the Crazy Cart were specifically for older boys like the age of 14 and above since they needed a lot of coordination and the ability to maneuver at higher speeds.  However, the Razor Crazy Cart Shift was designed to also bring younger children as low as 6 years on board. Although the controls also need co-ordination, it is not as complex as the previous versions and can be easily mastered from the help of parents.  The cart can comfortably take up to 140lbs of weight, which means, older children and even parents that can fit the dimension and weight limit can join in the fun however crazy it sounds,  It is safe and has been designed and engineered with younger riders in mind.
It's Affordable!
One of the top reasons many people like the Razor Crazy Cart Shift is that for a ride on toy the price is extremely affordable.  For what you get compared to those bulky slow ride on toys the price of the Crazy Cart Shift is pretty competitive and sometimes even comes in cheaper.   We've included a couple of links below where you can check current pricing.  Depending on possible sales you may be able to score a great deal.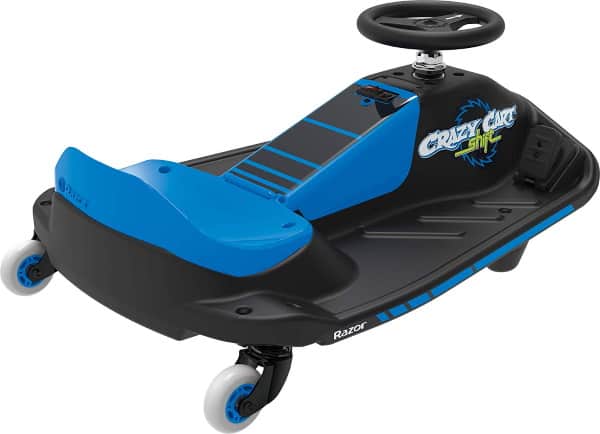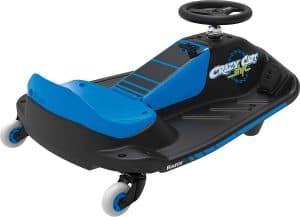 Is the Crazy Cart Shift Safe for my kids?
From the name Razor Crazy Cart, the toy seems as if it might be a little wild and maybe dangerous. However, the Razor Crazy Cart Shift has a number of safety features with the assurance that your child will be safe in this exceptional drifting toy. One of the key features is the adjustable buckle belt strap within the seat that completely ensures that your child will not fall or tip out while in his/her joy ride and drifts. The cart also comes in hand with anti-tip caster wheels and a 55 pound frame which ensures any tips or falls are not possible. The 55-pound frame also ensures there is balance while your child is riding.
Features of the Razor Crazy Cart Shift
Has speeds of up to 8 miles per hour.
Durable battery life providing up to 40 minutes of continued usage.
The drive system makes it easier for spinning and drifting.
Has the capability to swerve a full 360 degrees for sharp turns.
Easy control of speed using the variable-speed pedal.
Has a 90 watt hub motor.
Can carry riders up to 120 pounds.
Uses 2 × 12V, lead-acid battery that is rechargeable.
Check out the quick Razor Crazy Cart Shift Video:
CHECK PRICE @ Amazon
Thanks for stopping by and checking out Razor Crazy Cart Shift! Be sure to check out some of these other great kids karts brought to you by Wild Child Sports!
And remember to always educate your child on safety and have them always wear the appropriate safety gear!