All Terrain Longboard – StairRover
StairRover All Terrain Longboard by Allrover
Bombing down stairs is no longer a problem with the all terrain longboard by Allrover. The StairRover is unlike any other longboard currently on the market. It uses a unique eight-wheeled mechanism and V-frame to cruise easily on smooth surfaces and down flights of stairs.
Let's get into the details of one of the best all terrain longboards for 2017!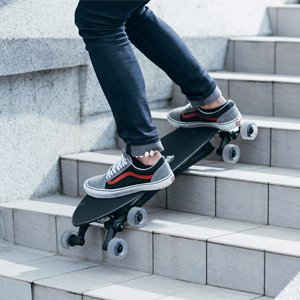 How much does the Allrover StairRover Longboard cost?
This longboard is going to run you around $200. 
StairRover All Terrain Longboard Specs & Features
6 ply maple deck with handle
50 degree customized aluminum trucks
Thermoplastic chassis with shock absorbers
60mm 80a wheels
Weight of 9 pounds
Check out the StairRover in Action!


So what are you waiting for? Get your Allrover StairRover today!
Be sure to check out some of the other great skateboards brought to you by Wild Child Sports!