Best Dual Motor Electric Skateboard 2020 – Skatebolt Breeze II 
Are you ready to hit the streets with the best dual motor electric skateboard? Yeah, we are too! The Skatebolt Breeze II uses a slide to start feature and is powered by dual 350 watt motors that can hit a top speed of 28 mph. You also get a Samsung battery which has battery life of 1,000 cycles. And thanks to the regenerating braking, you can charge your board while you're braking downhill.
One of the biggest complains that riders have about fast electric skateboards like the Breeze II, is the inability to customize the braking. Skatebolt solved this problem by equipping the Breeze II with 4 different brake settings from soft to strong that are easily adjusted with the remote. You even get two built in tail lights that flash while braking.
Last but certainly not least, Skatebolt provides a 6 month service warranty for the board if there are any quality issues.
Who is the Skatebolt Breeze II designed for?
This electric skateboard has a maximum rider weight of 265 pounds. Since the Breeze II is equipped with 4 different speed modes, you are able to adjust the top speed to the level of experience of the rider. This makes it a great board for all levels of riders.
What is the top speed of this electric skateboard?
As we just mentioned, the top speed of the Skatebolt Breeze II is 28 mph with range of up to 15 miles on a full charge. There are 4 different speed modes that you can choose from: 7.5 mph, 17.4 mph, 25 mph or 28 mph.
Where can you buy this electric longboard?
Here is where you can find the current price of the Breeze II:
Skatebolt Breeze II Spec & Features
Bamboo / Glass fiber deck

Dual 350 watt hub motors

4 speed modes
4 brake modes
100 mm wheels along with an extra set of 90 mm wheels

Wireless remote

Water Proof IP67

30% climbing grade
Cruise control
6 month warranty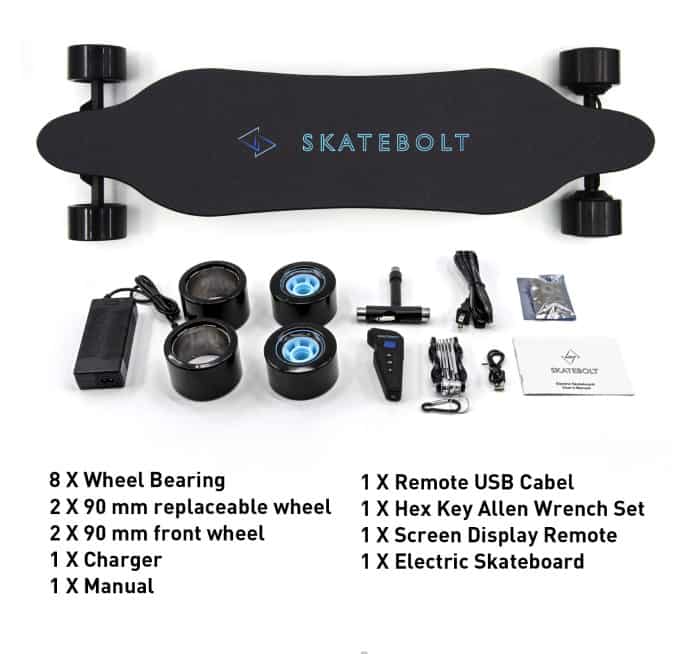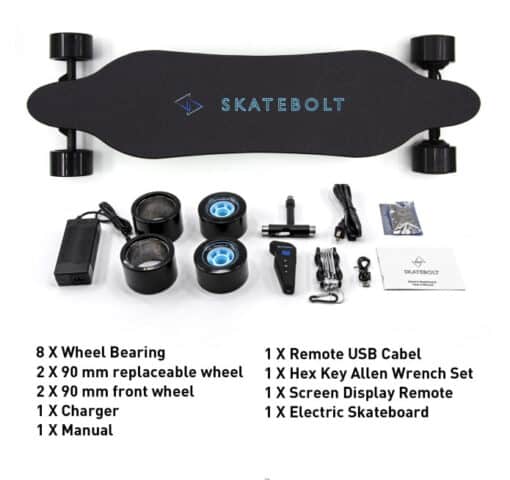 Check out the Best Dual Motor Electric Skateboard in ACTION!


So what are you waiting for?
Get your Skatebolt electric skateboard today!
Be sure to check out some of the other great electric skateboards brought to you by Wild Child Sports!