There are few better ways to get around a college campus, small town, urban environment, or even just your neighborhood, than on an electric scooter. Having your own electric scooter can help you travel short distances quickly.  Getting you there affordably without having to worry about gas or expensive maintenance fees is a plus too. Still, it is important that you make sure to choose an electric scooter best suited for your individual needs. One of many factors to consider is the weight limit of the scooter. Weight capacities can vary by brand and model and selecting the wrong scooter can lead to losses in speed, range, and durability over time. Below we've selected three of the best electric scooters for a 300lbs man so that you can make sure to get the one that's best suited for your needs! 
Evercross Electric Scooter
The Everyday Scooter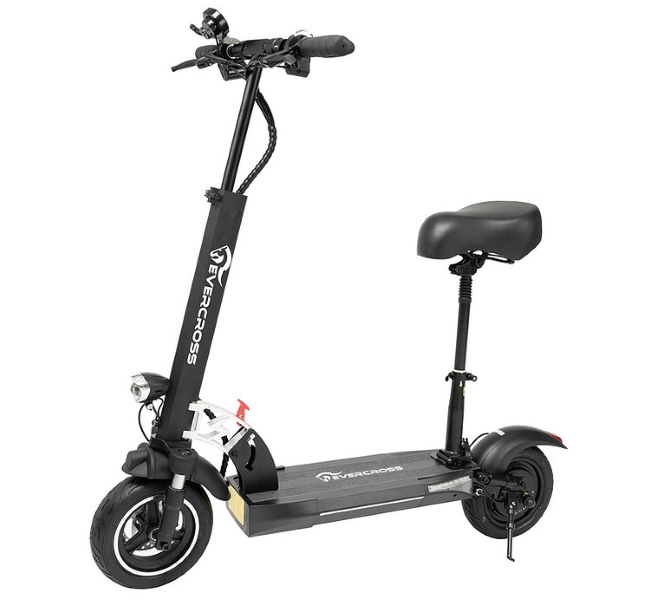 | | |
| --- | --- |
| Top Speed: | 28 MPH |
| Maximum Range: | 25 Miles |
| Battery Capacity: | 48V 10Ah |
| Charging Time: | 4-7 Hours |
| Load Capacity: | 330 lbs |
The Evercross electric scooter is an excellent option for anyone who wants a solid, middle-of-the-road scooter. It has a max speed of 28mph and a range of 25 miles. This makes it the ideal choice for running short errands, taking a quick commute to and from work, or getting around your college campus. This scooter has a weight capacity of 330lbs which makes it a great choice as an electric scooter for a 300lbs man. The 800W motor and multiple points of shock absorption help make this a smooth ride the entire time!
This electric scooter also features a unique LED lights system. These lights are functional in the forms of a turn signal and bright headlights but can be programmed to different colors on the side so you can show off whatever vibes you choose. A full-function LCD display and cruise control system help make this one of the more relaxing choices to zoom around town on.
Yume D4 Duel Motor Electric Scooter
The Powerhouse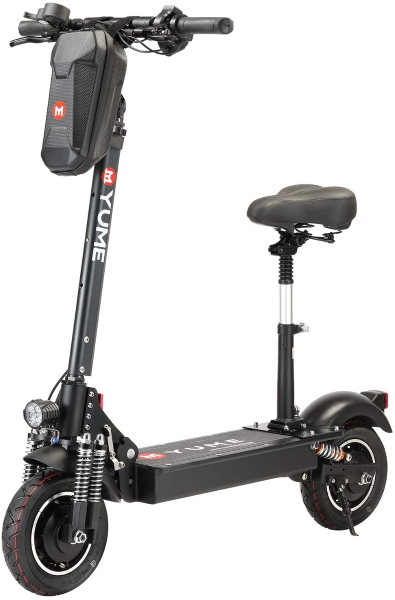 | | |
| --- | --- |
| Top Speed: | 40 MPH |
| Maximum Range: | 35 Miles |
| Battery Capacity: | 52V 23.4Ah |
| Charging Time: | Unknown |
| Load Capacity: | 330 lbs |
If you're looking for power, this is the scooter for you. The Yume D4 is one of the most powerful electric scooters on the market making even steep inclines a breeze. This is made possible by the scooter's powerful 2000W dual-motor. That dual-motor helps make that top speed of 40mph possible getting you where you're going as quickly as possible. It contains a dual-suspension system and off-road tires that makes it suitable for multiple types of terrains and conditions.  This is definitely the rugged survivalist of the electric scooter world!
However, all this power does come at a cost with the Yume D4 being the most expensive scooter on the list today being the only one with an average price of over $1000. Still, that extra money often pays out in terms of longevity. If you have a hilly commute, plan on using your electric scooter regularly, or just want some extra bang for your buck… this is your pick!
Todimart Electric Scooter
The Budget Choice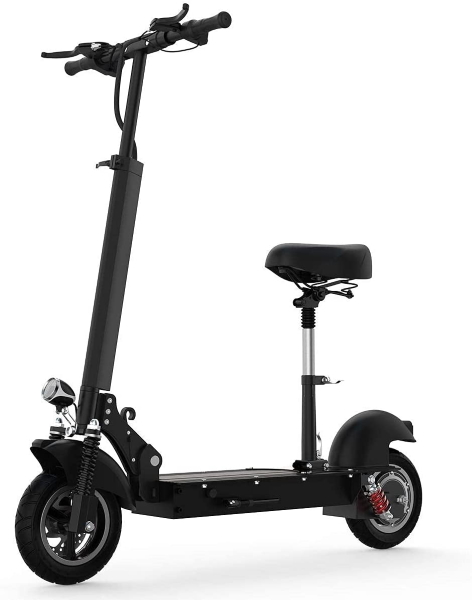 Top Speed:
28 MPH
50 MPH
Maximum Range:
18 Miles
28 Miles
Battery Capacity:
36V 10Ah
45V 15Ah

Charging Time:
Unknown
Weight Capacity:
330 lbs
Coming in at the cheapest of the models on this list is the Todimart electric scooter. Though an inexpensive choice, don't be fooled as this scooter certainly still packs a punch! It has the same load capacity (330lbs) as the other two scooters as well so it is still a great electric scooter for a 300lbs man or anyone under that weight limit!
One of the best features about the Todimart electric scooter is that it actually comes at two separate price points approximately $100 apart. The add-on takes the motor up from 350W to 500W and the battery capacity from 36v 10Ah to 500W and 48v and 15Ah. This increases the scooter's range up to 28 miles and the top speed to up to 50mph – the fastest on our list! It's important to note that even with the add-ons this is still the cheapest scooter of the bunch and that versatility is why it made the list!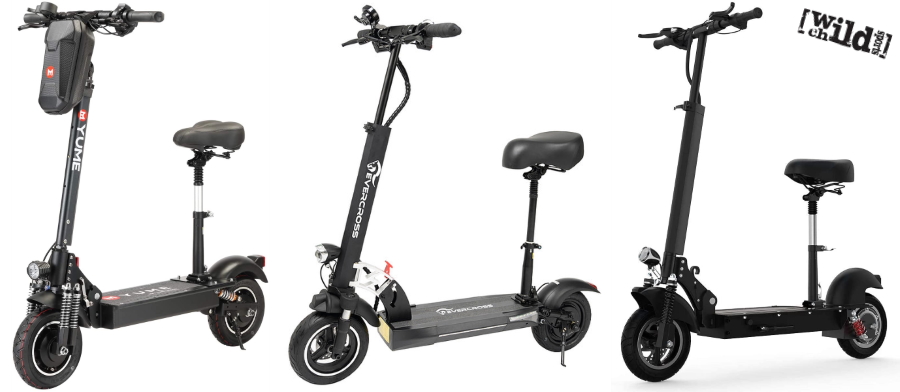 When picking out an electric scooter perfect for your needs, there are many things to consider. These are three of the best electric scooters for a 300lbs man but have the capacity to be a great choice for anyone depending on what kind of needs you have. Check out some of our other articles below for other scooters that may be best for you!
Fastest Razor Electric Scooters 2020
Razor E90 vs E100 Power Core Comparison Review
Best Electric Go Kart for Kids Under 8
Kids Seated Electric Scooter – Rosso Motors Cobra