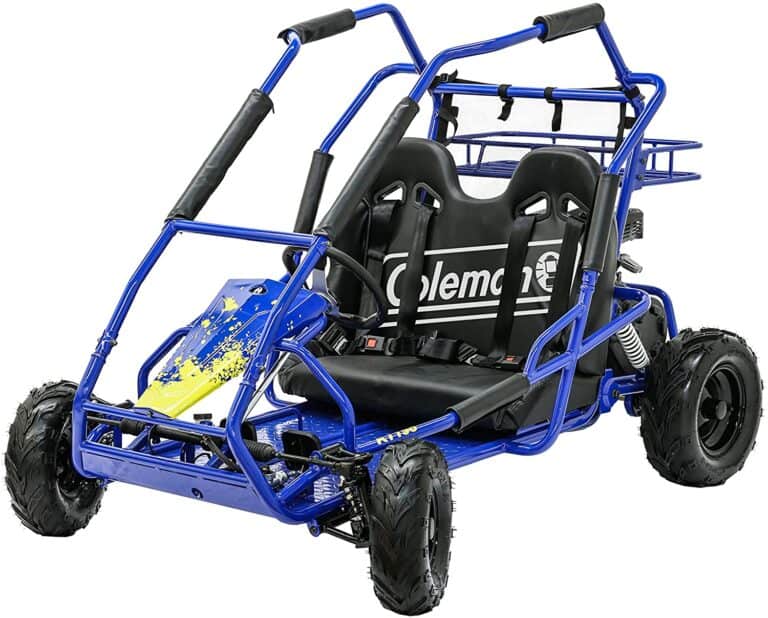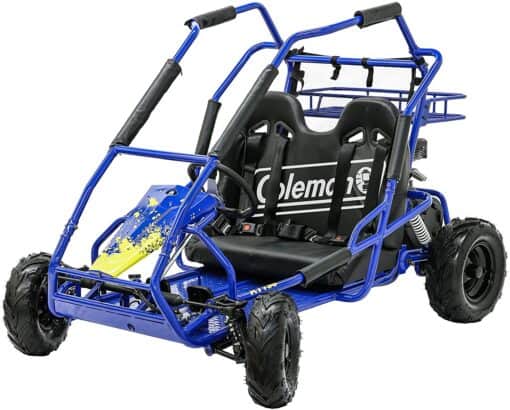 Coleman Powersports has an awesome lineup of gas powered toys for outdoor enthusiasts both young and old. Some of our favorite products have to be their lineup of go karts. Since we get a lot of questions specifically about the top speed of these go karts, we went directly to Coleman Powersports to find out.
The top speed of a Coleman go kart can range anywhere between 15 mph and 35 mph.
| | | | | |
| --- | --- | --- | --- | --- |
| | | Horsepower | Weight | Top Speed |
| CK100-S | | 3 | 135 pounds | 15 mph |
| SK100 | | 3 | 146 pounds | 15 mph |
| KT196 | | 5 | 330 pounds | 15 mph |
| BK200 | | 10.3 | 533 pounds | 35 mph |
| | | | | |
| | | | | |
What Things Influence Top Speed?
There are all kinds of things that can affect the top speed of a Coleman go kart. Terrain, horsepower and rider weight are a few of the factors that we are going to hit on today. It's also really important to acknowledge that often times when you read an article or watch a YouTube video about the top speed of a Coleman go kart, it is not stock. There have been modifications made that have increased the top speed. All of the information that we provide to you today assumes a "stock" go kart.
Terrain
Terrain can have a pretty significant impact on top speed. Riding in dirt, gravel or sand can and most likely will lower your top speed. Smoother, flatter surfaces will definitely allow you to hit a higher top speed. If you're driving up a hill, and depending on the grade of the hill, you could see a pretty substantial decline in the top speed here as well.
Rider Weight
The weight of the rider also affects your top speed (and yes we know that this is a no brainer). A heavier rider may not hit the top speeds listed upon but a lighter rider may go a lot faster than those top speeds.
Weight of Go Kart
The weight of your go kart can vary quite a bit depending on which model you choose. Heavier go karts are going to require more horsepower to hit the same top speed as some of the lighter models.
Horsepower
If you go back up to our comparison chart, you'll see that horsepower goes up as the go kart gets heavier. Some people make the mistake of assuming that more horsepower means a higher top speed and that is not always the case.
The Fastest Coleman Powersports Go Kart
BK200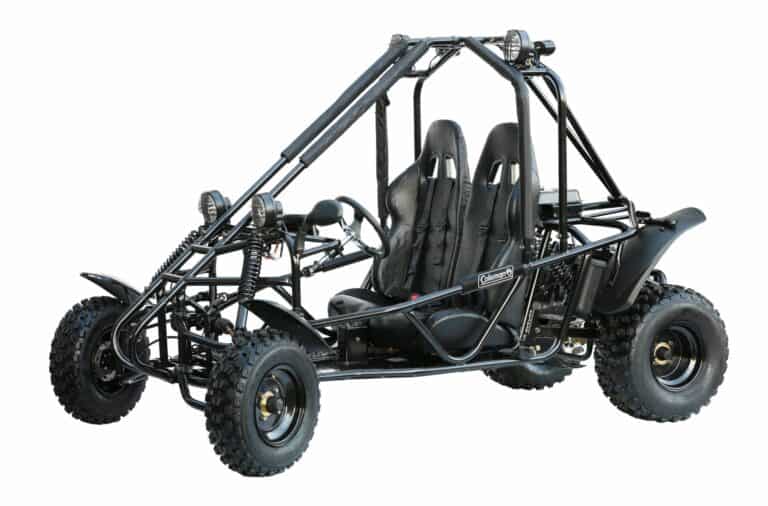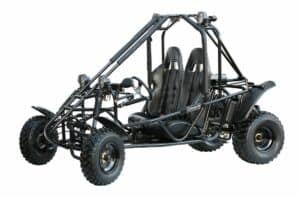 If you like to go fast, then look no further than the BK200! This go kart is powered by 169cc 4 stroke engine with 10.3 horsepower. The top speed of the Coleman BK200 is 35 mph!


Thanks for stopping by! Be sure to check out some of the other Coleman Powersports and action sports toys brought to you by Wild Child Sports!