Triad Counter Measure Drift Trike
Get Sideways on the Triad Counter Measure Drift Trike
Triad Drift Trikes provides one of the best, if not the best high performance drift trikes currently on the market. There are 5 drift trike models currently available through Triad – the Underworld, the Notorious, the Syndicate, the Lantern and the Counter Measure. Today, we want to feature the drift trike that caters to our lil' groms – the Counter Measure.
Here is everything that you need to know about this high performance drift trike for kids! And yes, you will have as much fun watching your kids drift through the neighborhood as they do riding it!
Who is the Triad Counter Measure Drift Trike designed for? 
The Triad Counter Measure is designed for all types of trike drifting. In terms of rider size, this particular model caters to kids from 7 to 12 years old.
How much is the Triad Counter Measure kids drift trike? 
There are currently 2 different versions of this drift trike – The Counter Measure and the Counter Measure 2. The Counter Measure is going to run you somewhere in the neighborhood of $200. The newer Counter Measure 2 will cost about $210.   In terms of finding the best price, we've found that Amazon tends to have the lowest prices on this high performance drift trike. So what are you waiting for? Go out and grab your Triad Counter Measure drift trike today!
Special features of the Triad Counter Measure
2 tone paint scheme
An adjustable tractor seat
18 inch, 36 spoke alloy front rim
High speed ABEC 5 rear bearings
The Triad Counter Measure drift trike is available in two different color combos – Black/Yellow (shown above), Black/Pink. The Counter Measure 2 is also available in two different colors – Silver/Magenta (shown below) and Silver/Neon Orange (shown below). The Triad Count Measure drift trike is without a doubt one of the best drift trikes for the younger generation! Get yours today!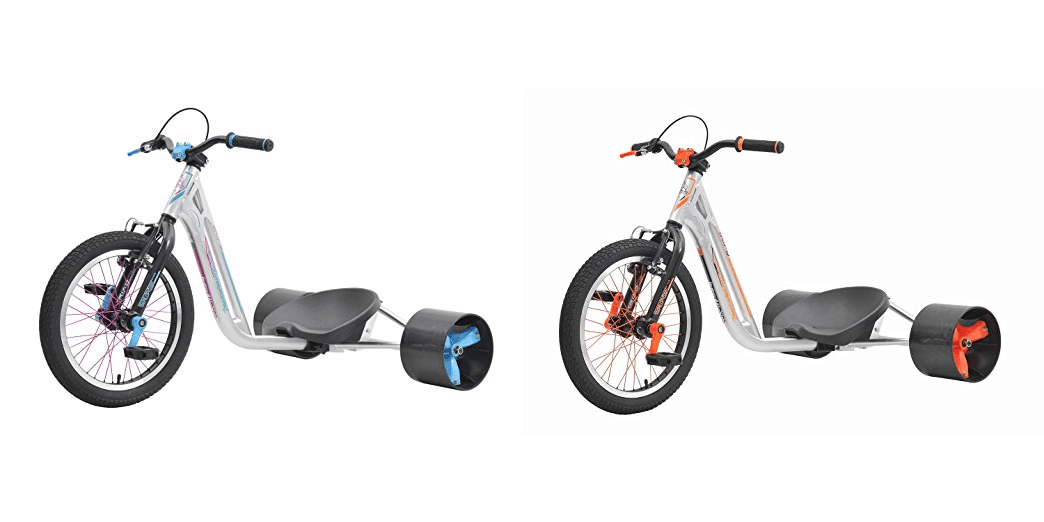 Be sure to check out all of the Triad Drift Trikes in action!

Be sure to check out some of these other great action sports toys brought to you by Wild Child Sports!
(Visited 656 times, 1 visits today)