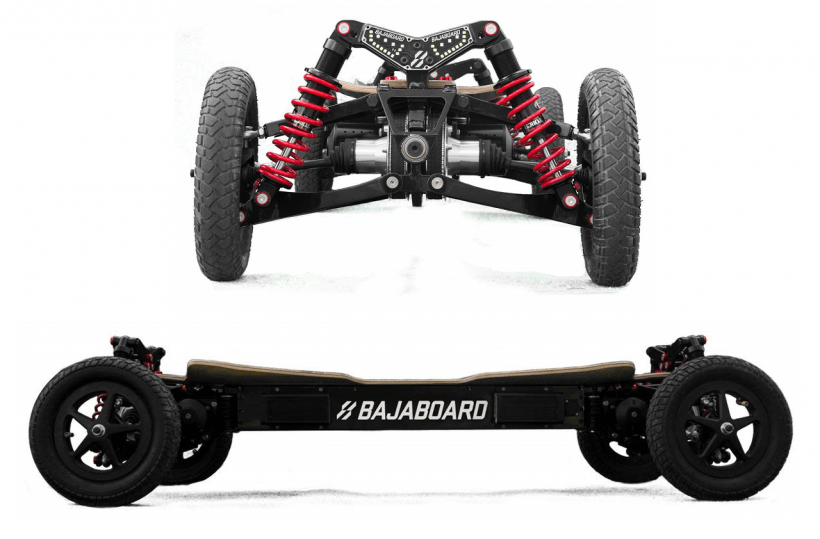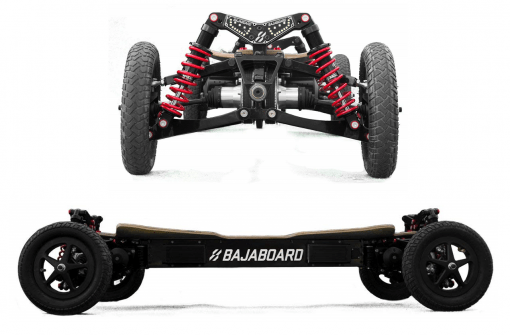 Fast Off Road Electric Skateboard – BajaBoard G4X
This off road electric skateboard from BajaBoard is an absolute BEAST! One of the coolest features of this board is your ability to switch between 2WD and 4WD. With just a push of a button, you can instantly change the riding mode based upon the terrain that you are tackling. Oh, and did we mention that it has FOUR brushless electric motors? This is one fast electric off road skateboard that packs some SERIOUS punch! Let's take a closer look at the BajaBoard G4X.
Who is this BajaBoard Off Road Electric Skateboard designed for?
The G4X is recommended for advanced to expert riders. The maximum rider weight is 300 pounds.
What is the top speed of the G4X Off Road Electric Skateboard?
The BajaBoard G4X has a top speed of 37 mph with a cruising range of up to 20 miles on a full charge. The charge time itself is about 2 hours and 30 minutes. This one FAST off road electric electric skateboard!
How much does the BajaBoard G4X Skateboard cost?
This electric skateboard is not cheap. With this kind of performance you are going to have to pay for it. Still, if you're any type of true board sport enthusiast this is an electric skateboard that you must add to your arsenal of boards!
BajaBoard G4X Off Road Electric Skateboard Specs & Features
4 brushless electric motors (one per wheel)
4 wheel regenerative braking
45% grade hill climb
Belt drive transmission
10 inch wheels
Head and brake lights
Alloy double-wishbone suspension
Maple composite deck
Check out the BajaBoard G4X in ACTION!
Final Thoughts on BajaBoard G4X Off Road Electric Skateboard
There are very few electric skateboards currently on the market that are going to deliver the performance that is packed into the G4X. The only real downside that we see is its price tag. But if you want a fast off road electric skateboard that instantly switches between 2WD and 4WD that tackles just about any terrain, you know what you need to do!
So what are waiting for? Get your BajaBoard electric skateboard TODAY!

Thanks for stopping by and checking out our electric skateboard review of the BajaBoard G4X. Be sure to check out some of the other great electric skateboards brought to you by Wild Child Sports!
Fast Off Road Electric Skateboard – BajaBoard G4X